In Home Health Personal Care Assistance When It Comes To Bathing And Grooming Seniors in Bremerton, WA
Could your loved one benefit from personal care services in the comfort of their own home?
At Comfort Keepers of Bremerton, we understand the difficulties that a family often faces daily when their loved one is unable to complete everyday activities and personal tasks like they once used to.
There are many reasons why these ordinary personal care tasks might become more of a chore for the senior and their family - such as the result of a medical condition (perhaps Alzheimer's or dementia), an injury, or even simply because of the natural aging process.
And, because of this new difficulty, seniors can sometimes use a little hands-on support completing these activities of daily living.
Comfort Keepers Bremerton offers compassionate in-home personal care services which can help seniors and family members reclaim their valuable time.
Our in-home personal caregivers aid seniors in their personal tasks all in the comfort of their own home, so they can maintain a more independent lifestyle and overall better quality of life.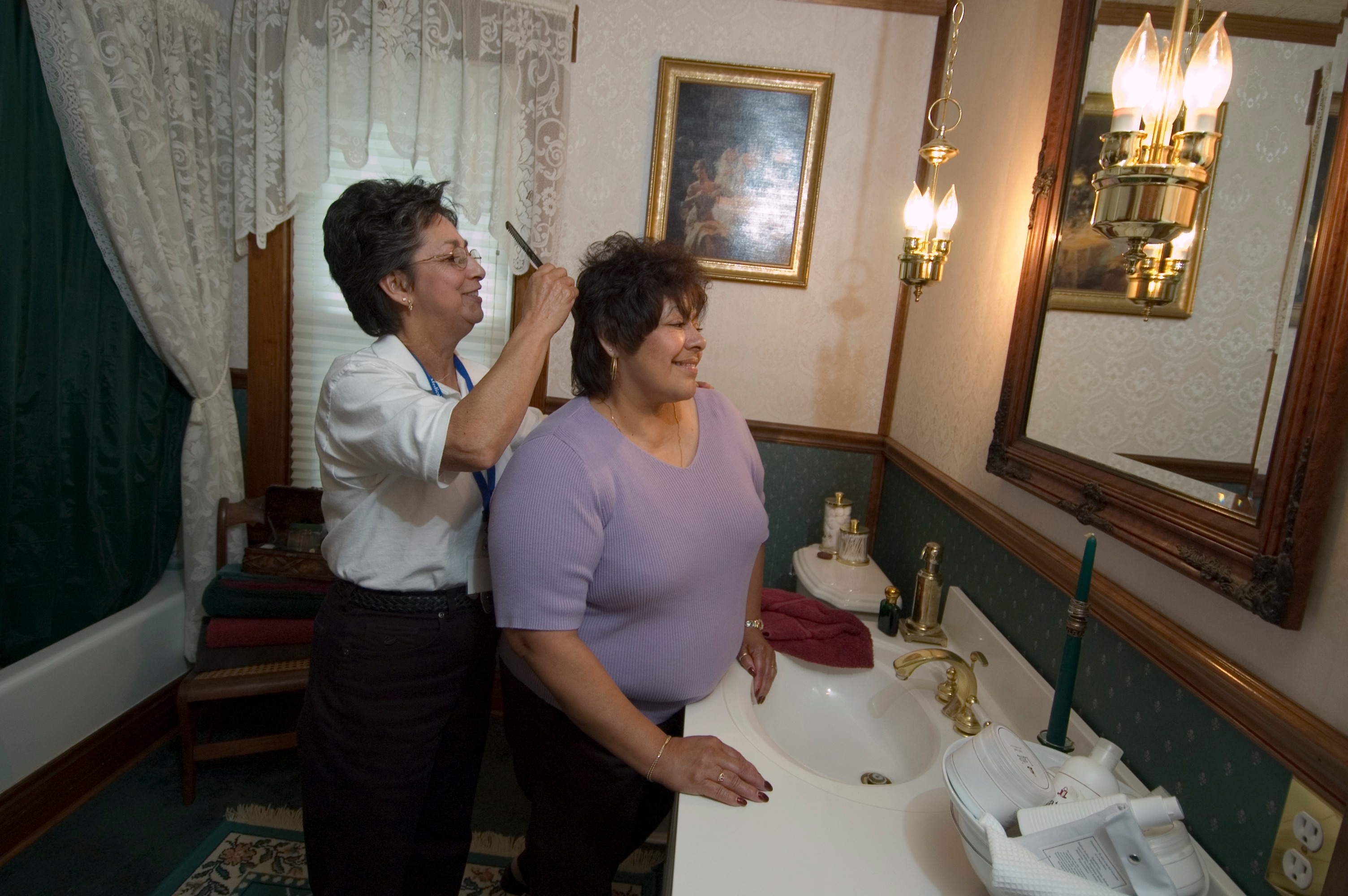 What Type of Assistance is Provided With Comfort Keepers Personal Care Services?
Our home care professionals at Comfort Keepers of Bremerton know firsthand that no two seniors are exactly alike, which is why we customize our personal care plan based on what your loved one's needs and preferences.
Our personal home health care aides are trained to assist with a range of care needs, including:
Grooming, bathing, and personal hygiene
Toileting and incontinence care
Medication reminders
Meal preparation, feeding assistance, and special diet requirements
Mobility assistance to help stay active and get around the house
Positioning and transferring of the senior to avoid muscle stiffening or weakness because of a debilitating illness or injury
Light housekeeping and day-to-day household tasks
In addition to personal care, Comfort Keepers care agencies offer a variety of other home care services for older adults as well - including respite care, long-term senior care, and more.
Obtain Peace of Mind With Comfort Keepers Bremerton Today
Ready to help your loved one experience a new form of independent senior living?
Call Comfort Keepers of Bremerton today at (360) 373-5678 to learn more about our eldercare services and schedule an in-home consultation.
Intimate hygiene solutions in regards to in home health care
Our caregivers at Comfort Keepers of Bremerton, WA are professionals in all areas of elderly care. This includes personal hygiene assistance for the city's cherished older population. Nothing is too much trouble for our experts working in areas of in home health care, including bathing and grooming. Not only do clients feel wonderful afterwards, but we also help to prevent the potential risk of illness or infection. That's how important personal hygiene is for some older folks, and we're happy to serve.
Regular grooming has a significant psychological impact in addition to benefiting physical wellbeing. It's something that can help to boost self-confidence as well as reduce stress. And we've known for a long time that the better someone feels mentally, the better they fare physically.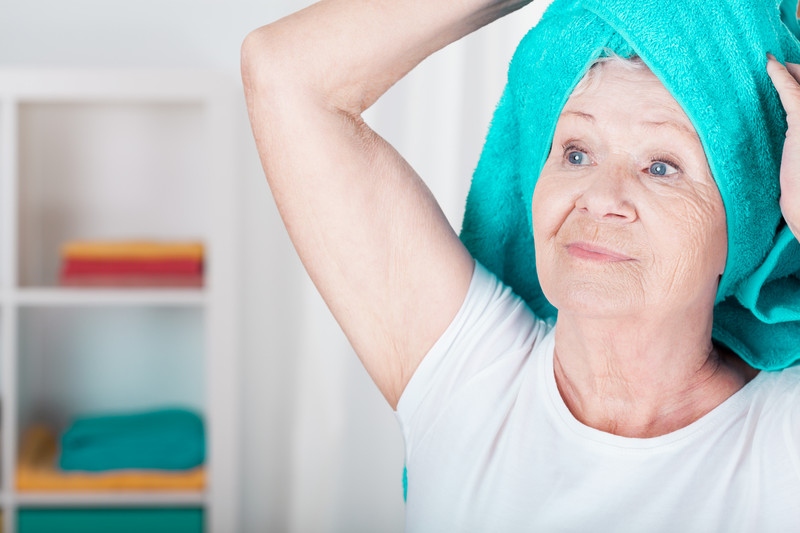 Comfort Keepers is proud to offer personal care services as a major part of our inclusive in home health care solutions. The older people get, the more difficult it becomes to keep clean and maintain good hygiene. It's nobody's fault, it's just that many seniors are not as agile and flexible as they used to be. We can help by preparing a bath for example, and then staying nearby in case of an emergency. Or we can do everything from start to end, including toweling and dressing.
We Excel In Home Health Care For Seniors
Comfort Keepers makes bathing and grooming easy. It's never long before clients become comfortable with our professional and respectful methods. Our calm and friendly manner at dealing with personal hygiene situations is infectious. It's an approach that helps to relax our elderly care recipients.
Comfort Keepers never takes anything for granted. A full range of personal care may include:
Transferring and positioning
Bathing and grooming
Toileting and incontinence care
Mobility assistance
Other
Much More Than Just Bathing, Hygiene And Grooming
Whatever type of personal help in home health care our client's need we can arrange. We work close with families and their loved ones to develop compassionate plans that offer the best solutions for all concerned. The seniors in Bremerton, WA, like elsewhere in the country, often suffer with mobility issues. This is one of the more inevitable signs of ageing. Through our Interactive Caregiving approach to senior care, clients become more mobile. They can also become more active and begin to enjoy a better quality of living.
These are all things that lift the spirits of those we care for. And this new lease of life and feeling of self-worth can bring about the following benefits for Bremerton's seniors:
A more active lifestyle
Increased energy
Reduced blood pressure
Improved sleep
Better digestion
Other benefits of quality solutions
Caregiving is not just a job it's a calling. Comfort Keepers handpicks all our caregivers and then matches the ideal person to the right client. Whether it's bathing, intimate grooming, or more intense care, we can help. For a free in-home care consultation, Contact us by message or call during normal business hours at Bremerton, WA (360) 373-5678.
---
Comfort Keepers of Bremerton provides services to the following cities and neighborhoods in Kitsap County, Mason County & Pierce County:
Allyn, Artondale, Bainbridge Island, Belfair, Bethel, Breidablick, Bremerton, Brownsville, Burley, Central Valley, Chico, Crosby, East Port Orchard, Gig Harbor, Gilberton, Gorst, Grapeview, Hansville, Indianola, Keyport, Kingston, Lakeby, Manchester, Medowdale, Navy Yard City, Olalla, Parkwood, Port Gamble, Port Orchard, Poulsbo, Purdy, Retsil, Rolling Bay, Seabeck, Sheridan, Silverdale, South Park Village, Southworth, Suquamish, Tacoma, Tahuya, Tracyton, Union, Waterman, Wildcat Lake and more
3256 Chico Way NW, Bremerton, Washington 98312