Senior Care Programs in Breidablick, WA
Comfort Keepers of Bremerton, WA is Proud to Offer Superior Senior Care in Breidablick, WA
Breidablick, WA is home to over 80 senior living facilities designed to provide assisted living for those who are no longer able to remain in their homes or simply lack the ability to "care" for themselves and their homes. At Comfort Keepers of Breidablick, WA, we believe that many seniors who find themselves in these assisted living facilities don't really belong in these homes or want to be there, but felt as though they had no choice. We offer a range of the best senior care services designed to help you or your loved ones remain in your homes and enjoy your golden years.
Senior Care by Design from Comfort Keepers of Breidablick, WA
At Comfort Keepers we are proud to offer the families in and around Breidablick, WA a wonderful alternative to placing their elderly loved ones in one of the local assisted care facilities. We do this by offering an incredibly diverse and adaptable range of senior care plans that can be adapted to meet the changing needs of your loved ones during their golden years. Your program can start with simple things such as assistance with light housekeeping and transportation and switch up to more intensive around the clock care as it becomes necessary. Our goal is to make it possible for your loved ones to remain in their home instead of spending their lives in a nursing home.
We Offer Fully Interactive Care Plans in Breidablick, WA
Comfort Keepers of Breidablick, WA is proud to be able to offer our local families a viable alternative to placing their loved ones in an assisted living facility or nursing home by offering an interactive form of care that keeps the needs of our clients at the forefront at all times. Our services include a number of specialized services such as respite care and around the clock care for those suffering from Alzheimer's disease and many forms of dementia. Our caregivers have specialized training in these areas that ensure they can provide the ultimate in senior care for your loved ones.
Your Path To Care Starts Here

If you would like to learn more about the senior care programs available from Comfort Keepers, we are only a phone call away. Our number is (360) 373-5678 where you will find one of our Care Advisors ready to answer all of your questions and schedule your free in-home consultation.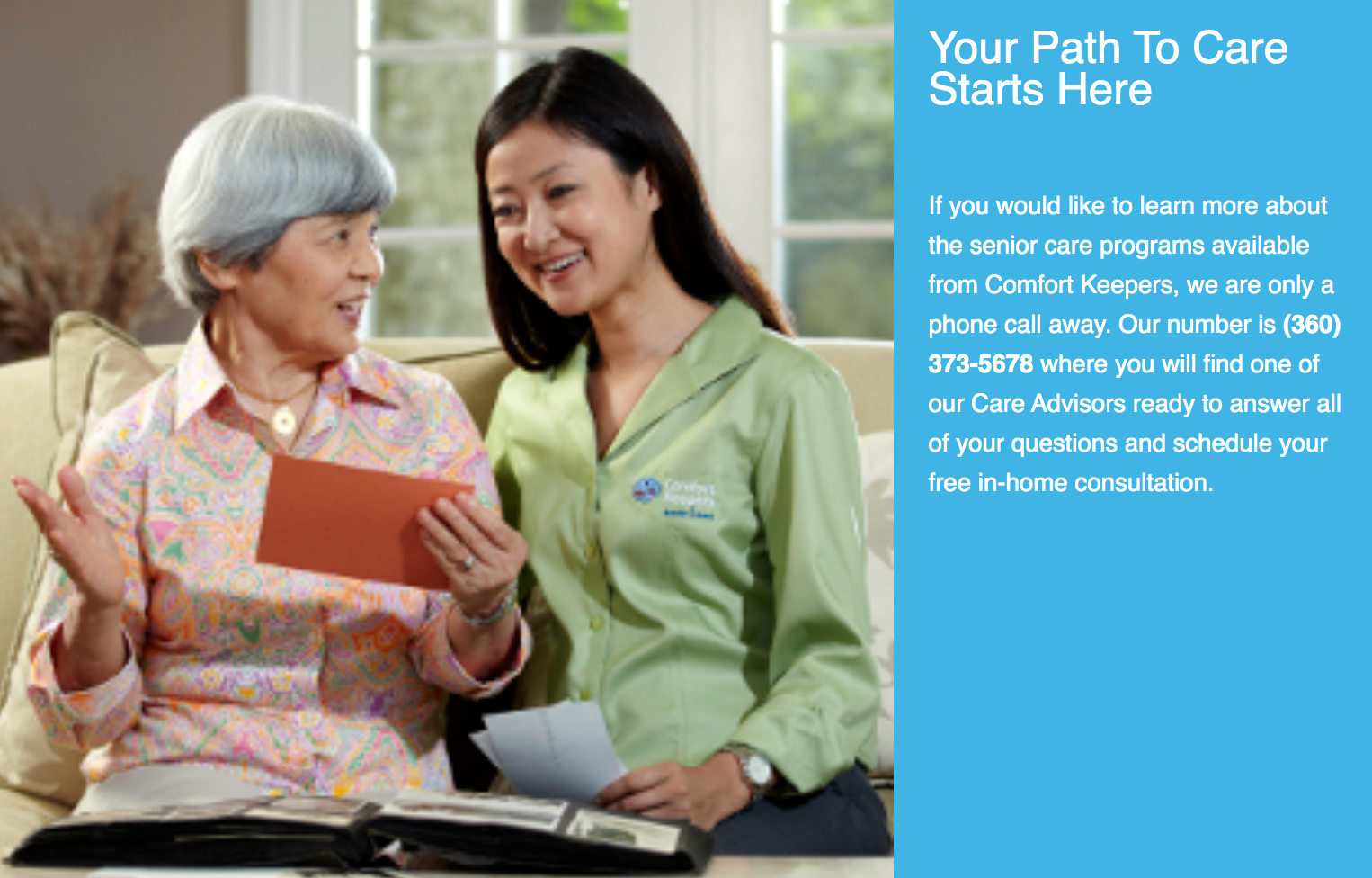 Comfort Keepers of Bremerton provides services to the following cities and neighborhoods in Kitsap County, Mason County & Pierce County:
Allyn, Artondale, Bainbridge Island, Belfair, Bethel, Breidablick, Bremerton, Brownsville, Burley, Central Valley, Chico, Crosby, East Port Orchard, Gig Harbor, Gilberton, Gorst, Grapeview, Hansville, Indianola, Keyport, Kingston, Lakeby, Manchester, Medowdale, Navy Yard City, Olalla, Parkwood, Port Gamble, Port Orchard, Poulsbo, Purdy, Retsil, Rolling Bay, Seabeck, Sheridan, Silverdale, South Park Village, Southworth, Suquamish, Tacoma, Tahuya, Tracyton, Union, Waterman, Wildcat Lake and more
3256 Chico Way NW, Bremerton, Washington 98312