Senior Care Services in and around Parkwood, WA
Comfort Keepers of Bremerton, WA offers superior senior care to families in Parkwood, WA.
When you stop to think about it, there are many reasons why your elderly mother or father should stay in their home rather than find themselves living in a nursing home or long-term care facility. Comfort Keepers of Bremerton, WA is proud to be able to offer senior care services to seniors who live in Parkwood, WA and the surrounding areas. While nursing homes may seem to have a lot to offer, most seniors prefer to stay in their own homes where they are familiar with everything. Not only does this help with their mental well-being, in many cases using in home care will also help with their physical health.
Senior Care Services and Medication in Parkwood, WA
One of the biggest challenges facing many seniors who choose to live at home rather than entering a nursing home concerns their prescription medication. Many seniors take what can only be described as a confusing array of daily medication. Often, they end up missing important doses or taking their medications in the wrong order or at the wrong time. Our Comfort Keepers caregivers have been fully trained to assist your loved ones with taking the right medications at the right time and in the right sequence. This level of in home senior care helps to ensure they remain as healthy and happy as possible.
Superior Services in Parkwood
Using Comfort Keepers senior care services can also prove to be far more cost effective than nursing homes. Since most seniors in the Parkwood area are living on a fixed income, the costs associated with living in an assisted-living facility may well be beyond their reach. Our variety of care services offers a more affordable option while at the same time giving your parent or parents the opportunity to live out the rest of their lives in their own home surrounded by their memories and a lifetime collection of possessions.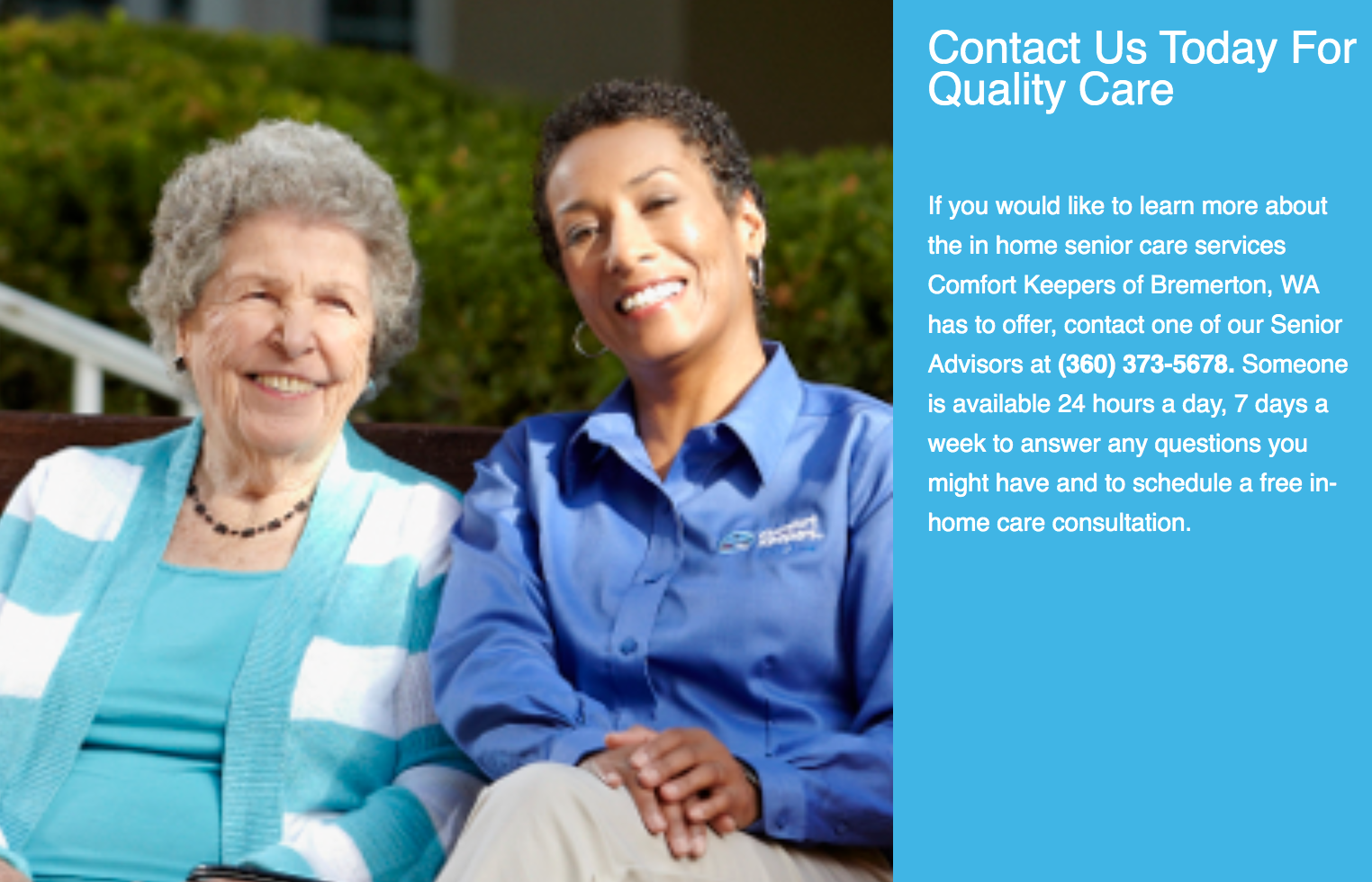 Comfort Keepers of Bremerton provides services to the following cities and neighborhoods in Kitsap County, Mason County & Pierce County:
Allyn, Artondale, Bainbridge Island, Belfair, Bethel, Breidablick, Bremerton, Brownsville, Burley, Central Valley, Chico, Crosby, East Port Orchard, Gig Harbor, Gilberton, Gorst, Grapeview, Hansville, Indianola, Keyport, Kingston, Lakeby, Manchester, Medowdale, Navy Yard City, Olalla, Parkwood, Port Gamble, Port Orchard, Poulsbo, Purdy, Retsil, Rolling Bay, Seabeck, Sheridan, Silverdale, South Park Village, Southworth, Suquamish, Tacoma, Tahuya, Tracyton, Union, Waterman, Wildcat Lake and more
3256 Chico Way NW, Bremerton, Washington 98312