Superior Senior Care in Suquamish, WA by Comfort Keepers of Bremerton, WA
In order to let your loved one age in place, our senior care plans include more than just help with personal tasks
Growing older means facing the possibility of no longer being able to do many of the routine chores around your home that you have been doing all of your adult life. While you might find this slightly embarrassing, there is really no need to as it is simply a part of growing older and something we are all going to face at some point. Rather than giving up and moving into an assisted living facility or nursing home, our senior care plans have been created to provide the perfect level of help without making your feel as though you are giving up your independence or dignity.
Light Housekeeping Included With Our Senior Care in Suquamish, WA
Taking care of your home used to be a routine chore that you probably never gave more than a second thought. Now that you are getting a little older and slowing down, taking care of simple light housekeeping chores can often seem as though it is a little beyond your abilities. When this happens, there is no shame is asking for a little help. Our caregivers are prepared to offer you a wide range of light housekeeping assistance, including:
Sweep, mop, vacuum floors
Dusting
Laundry at home or laundromat, including, wash, dry, iron, fold, and put away
Meal preparation, including shopping for the groceries
Transportation to appointments, shopping, and many other activities
Medication Assistance in Suquamish, WA
Remembering to take your medications on time and in the right dosages can often be difficult as you grow older. Little slips in your memory can have a major impact on your overall health when you forget to take your medication. As part of your senior care plan, our caregivers are prepared to remind you when to take your medications, help you with opening the various "child-proof" containers, and reading the labels to ensure you are taking the right dosage.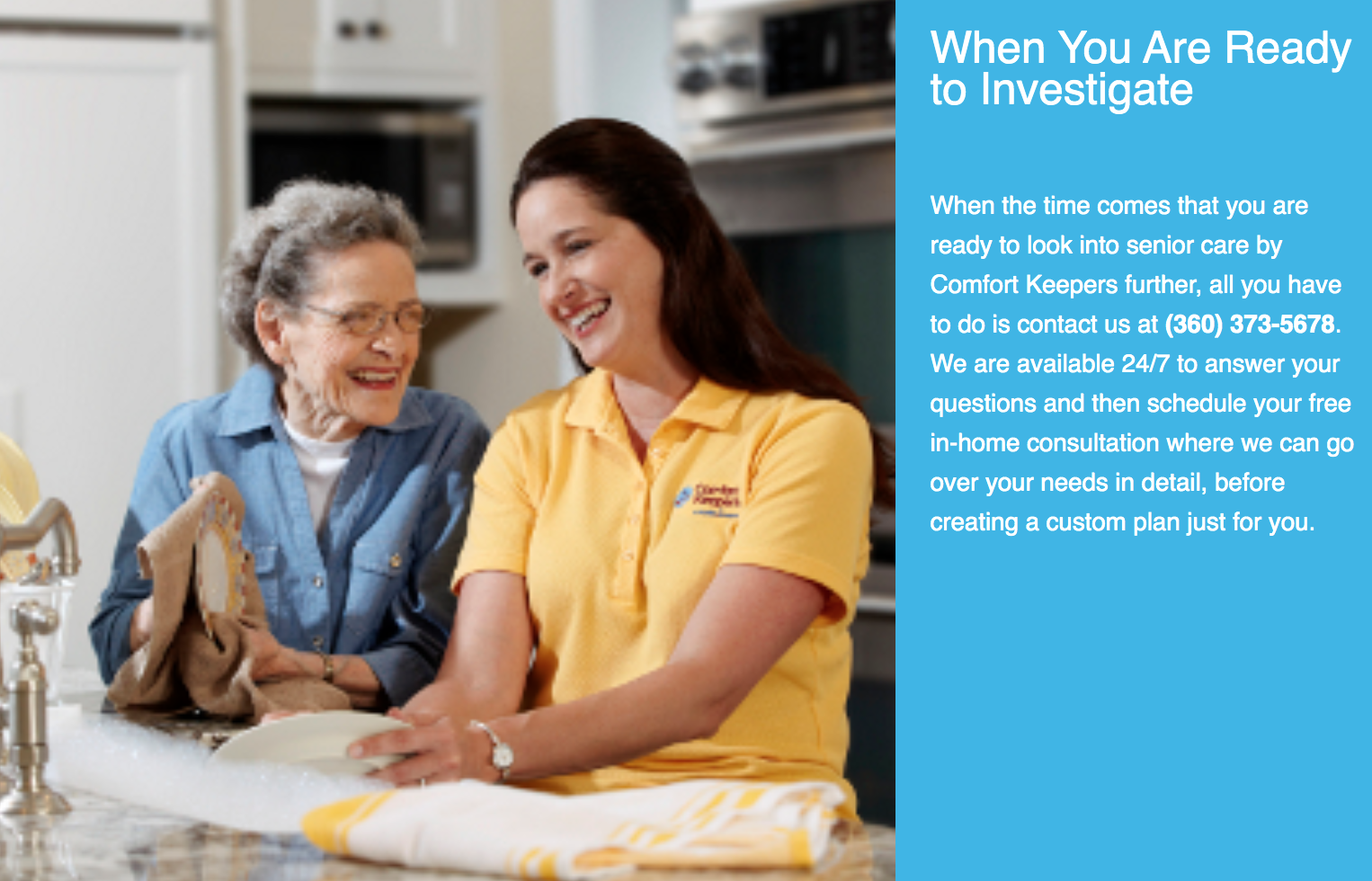 Comfort Keepers of Bremerton provides services to the following cities and neighborhoods in Kitsap County, Mason County & Pierce County:
Allyn, Artondale, Bainbridge Island, Belfair, Bethel, Breidablick, Bremerton, Brownsville, Burley, Central Valley, Chico, Crosby, East Port Orchard, Gig Harbor, Gilberton, Gorst, Grapeview, Hansville, Indianola, Keyport, Kingston, Lakeby, Manchester, Medowdale, Navy Yard City, Olalla, Parkwood, Port Gamble, Port Orchard, Poulsbo, Purdy, Retsil, Rolling Bay, Seabeck, Sheridan, Silverdale, South Park Village, Southworth, Suquamish, Tacoma, Tahuya, Tracyton, Union, Waterman, Wildcat Lake and more
3256 Chico Way NW, Bremerton, Washington 98312