Home Care Options in Belfair, WA
The Finest Home Care for Seniors in Belfair, WA Comes from Comfort Keepers of Bremerton, WA
Belfair, WA sits on the Union River at the headwaters of the Hood Canal and has served as a major commercial center for many years, During the summer months the area swells with a huge influx of tourists, but there is also a large population of senior citizens who call Belfair home all year long. Many of these seniors find they need a little help as they enter their golden years. At Comfort Keepers of Bremerton, WA we offer a wide range of home care solutions designed to help the elderly remain in their homes and enjoy their remaining years.
Home Care In Belfair, WA Designed to Maintain Your Loved Ones' Dignity
No one ever enters their golden years thinking they are going to suffer from physical or mental health issues that will limit their ability to live with dignity and independence. However, for many, the simple fact is that over time their health does indeed start to fade and they find themselves no longer able to remain in their homes without help and this is where the many home care plans available from Comfort Keepers comes in. We offer an incredibly diverse range of senior care services that range from taking care of minor housekeeping chores to providing some much needed companionship and finally to 24 around the clock care that addresses the needs of you or your loved ones.
Our Belfair, WA Care Services Programs Are Designed to Maintain Independence
One of the biggest objections to home care we hear from our clients at Comfort Keepers in Belfair, WA is the fear of losing their independence. Our caregivers have been trained to provide the perfect balance of assistance and companionship without being intrusive. We call our services "Interactive Caregiving", this program lets our caregivers work directly with you and/or your loved ones to create a care services program that meets your needs without overstepping any boundaries, taking away from their dignity, and most of all maintaining the highest possible level of independence at all stages of their lives.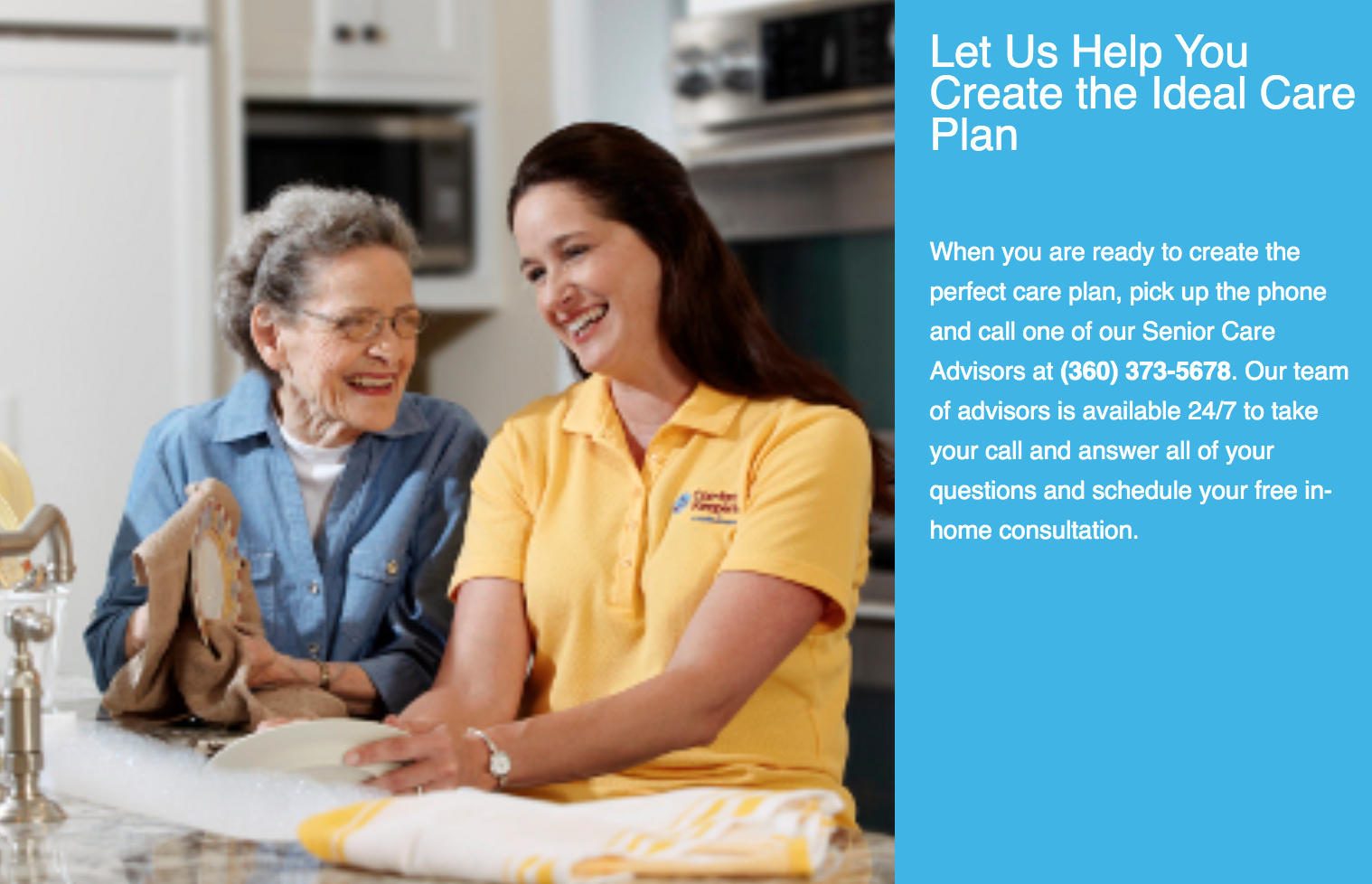 Let Us Help You Create the Ideal Care Plan

When you are ready to create the perfect care plan, pick up the phone and call one of our Senior Care Advisors at (360) 373-5678. Our team of advisors is available 24/7 to take your call and answer all of your questions and schedule your free in-home consultation.
Comfort Keepers of Bremerton provides services to the following cities and neighborhoods in Kitsap County, Mason County & Pierce County:
Allyn, Artondale, Bainbridge Island, Belfair, Bethel, Breidablick, Bremerton, Brownsville, Burley, Central Valley, Chico, Crosby, East Port Orchard, Gig Harbor, Gilberton, Gorst, Grapeview, Hansville, Indianola, Keyport, Kingston, Lakeby, Manchester, Medowdale, Navy Yard City, Olalla, Parkwood, Port Gamble, Port Orchard, Poulsbo, Purdy, Retsil, Rolling Bay, Seabeck, Sheridan, Silverdale, South Park Village, Southworth, Suquamish, Tacoma, Tahuya, Tracyton, Union, Waterman, Wildcat Lake and more
3256 Chico Way NW, Bremerton, Washington 98312