Reliable Senior Transportation Services in Hillsboro, OR
Comfort Keepers provides senior transportation services in Hillsboro, Beaverton, Cornelius, Forest Grove, and the surrounding OR areas
If your loved one cannot leave the house and go out on their own, they could feel isolated in their own home. They may have lost some movement, been afflicted by a disease or injury, or have poor eyesight. For whatever reason, they may be having difficulties getting to appointments, food shopping, or visiting loved ones. By regaining their freedom with our senior transportation services, we hope to ensure they never experience a sense of helplessness or loneliness again.
Get started today with a simple phone call (503) 558-2699!
---
Our Senior Transportation Services
We provide senior transportation to ensure your loved ones safely get from point A to point B. Our qualified and insured drivers can support them getting in and out of the vehicle, offer accompaniment for their errands or appointments, or arrange a pickup and drop-off schedule if they'd like to attend an appointment independently. Let us know their needs and we'll provide as much assistance as possible.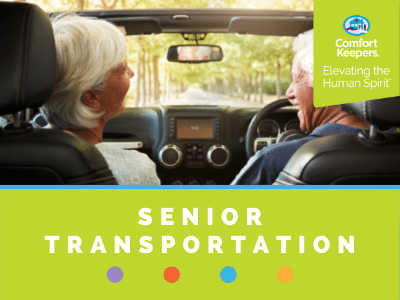 Regular exposure to fresh air and diverse environments is important for both physical and mental health. Let us assist your loved one in maintaining their level of freedom and independence throughout their entire life. Seniors should never feel confined to their homes or restricted from leaving when they please.
In addition to senior transportation services, Comfort Keepers also offers other senior home care services, including:
Conversation and regular companionship
Meal preparation and special diet
Laundry, especially heavy linen
Light housekeeping
Grocery shopping
Running other errands
Medication reminders
Grooming guidance
---
Contact Us Today For More Info!
Please contact us to learn more about our senior home care services or our quality senior transportation services throughout Hillsboro, Beaverton, Cornelius, Forest Grove, and the surrounding areas. We can arrange a free consultation for you or a loved one. We're just a phone call away—contact us anytime, day or night. Click one of the buttons below to get started.