Companion Care in Boring, OR
Learn how our companion care services can help your loved one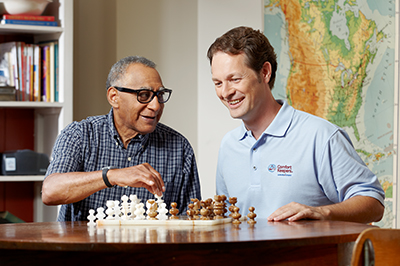 In Boring, OR, you can depend on Comfort Keepers to take care of your loved one's personal and companion care needs such as bathing, dressing, medication reminders, meal preparation, and light housekeeping.
More importantly, you can know that your loved one is cared about and engaged. Your Comfort Keeper will visit with your loved one, participate in hobbies and activities that she or he enjoys, and provide needed companionship and engagement with the outside world!
Whether it is going to a doctor appointment, to the grocery store, or going on a walk around Barton Park, we can accompany your loved one on quick errands or all day outings as part of our care services.
Call Comfort Keepers at (503) 558-2699 today to find out how your loved one can benefit from our companion care services!