Help For Senior Citizens in Silverton, OR
Discover the variety of ways we offer help for senior citizens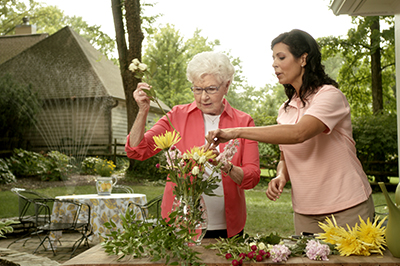 We proudly provide help for senior citizens in Silverton, OR. Personal care and companionship can help your loved one maintain a healthy life at home and even stay involved in the community. We can design a custom care plan that creates a fulfilling and active life.
Our Comfort Keepers can help with daily activities such as bathing and dressing, do light housekeeping and laundry, or run errands whenever necessary.
One of the ways we offer help for senior citizens is through our companion care services. With one of our trusted Comfort Keepers caregivers, your loved one can go to the Senior Center on Westfield Street for a game of cards or to watch a movie, to Town Square Park to shop at the farmer's market, or to Oregon Gardens to enjoy one or more of the 20 specialty gardens there. We can also accompany clients to appointments at Silverton Hospital on Fairview Street, or to shop at Roth's Fresh Market on North 1st Street. We try to keep seniors as active and engaged as they can be, whether it is going places for fun, engaging in hobbies that they love, or just holding a lively conversation!
Learn more about the various ways we provide help for senior citizens in Silverton, OR. Call your local Comfort Keepers team today at (503) 558-2699.