Respite Care for Family Caregivers in Hillsboro, OR
Comfort Keepers offers reliable respite care for family caregivers in Hillsboro, Beaverton, Cornelius, Forest Grove, and the nearby areas
Adult children and other close relatives are naturally concerned about the well-being of elderly relatives who require assistance to continue living independently at home. Usually, a family member is the first to become a defacto caregiver for a loved one.
If you've taken on this role, you know that it can be both a blessing and a huge challenge, especially if you're also working full-time and raising your children. Without adequate self-care, this hectic lifestyle may take its toll, leaving you exhausted and irritable.
Therein lies the role of Comfort Keepers. Whenever you need assistance, we can assist you in scheduling respite care, which is a straightforward and useful solution. We can provide you, and your elderly loved one with as little or as much care as you need. Call us at (503) 558-2699, or continue reading.
---
What Is Respite Care?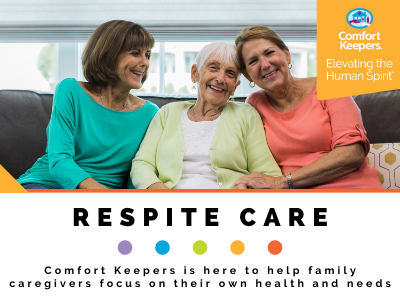 To give family caregivers a much-needed break they need, respite care services are made available as needed. It enables primary caregivers to unwind, travel, or attend to other important tasks while their loved one is safe. During this period, senior citizens receive expert in home care at home from a trained caregiver.
---
How Our Caregivers Assist
While you recover and take a vacation from caring for your loved one, our respite care experts ensure that their basic needs are addressed. We may help the elderly with the following home care services:
Daily Housework
Food Preparation
Mobility Help Around the Home
Cleanliness & General hygiene help
And much more
Our purpose is to create a trustworthy support system. Our services are extremely customizable and may be provided quickly. Our caregivers will follow your instructions and rules while filling in as needed.
---
Contact Comfort Keepers Today
If you are interested in learning more about our respite care services in Hillsboro, Beaverton, Cornelius, Forest Grove, or the surrounding Oregon areas, please contact us at (503) 558-2699. We have agents on duty 24/7/365 to take your call. They can answer many of your questions and schedule your free care consultation with one of our care team members. They will work with you and your loved one to develop a senior care plan that meets everyone's needs.