How At Home Caregivers Make a Positive Difference in Bremerton, WA
At home caregivers wake up every day knowing they are a hero to seniors and their families
There are lots of great living facilities for the elderly in Bremerton, WA. Despite this, most seniors prefer to stay at home—given that choice. This way, they can age in comfort, while maintaining some level of happiness and independence. It wasn't so long ago that less able seniors ended up in assisted living facilities or residential nursing homes of some description. Most of these places offer a great service, but still people prefer to stay in their homes if they can. Today, things are changing, and changing for the better. Comfort Keepers of Bremerton, Washington, has highly trained at home caregivers who help the older folks of this great city age in their own place. These are dedicated, compassionate people who make a real difference in the lives of those they care for.
Because more and more seniors want to stay at home as they age, the demand for professional caregivers rises. The good news is that there's no shortage of people ready to step up to the challenge. Comfort Keepers are already active in the community. We'll continue to assist the seniors of Bremerton live comfortable and independent lives in their cherished homes.
Here's a shortlist of how at home caregivers make a real difference to clients and their families:
Independent living and lifestyle, or as independent as the situation allows
Improve safety around the home
Help to keep the care recipient physically and mentally active 
Provide quality companionship
Chauffeuring as and when needed
Peace of mind for clients and their close family members
The list could go on indefinitely, but you get the idea. The points raised above are all serious areas of care, and ones that transform the lives of the client. We don't tend to think too much about independence until there's a risk of losing it. Helping seniors to help themselves live life at home makes a huge and positive difference to their lives. Safety around the home is another of those hidden differences caregiving provides. Too many seniors have nasty accidents and falls at home because their spaces are unsafe and cluttered. A professional Comfort Keeper gets to spot things others might not see. As a result, they make the home environment safer and then maintain that safe setting.
At Home Caregivers Encourage Physical and mental Activity
Comfort Keepers in Washington has a special Interactive Caregiving program, designed specifically with our clients in mind. This is a fun and gentle method which gets muscles moving and minds working. Our unique approach to physical exercise and mind stimulation really does make a difference. It helps with both physical mobility and the improved mindset of our clients.
At home caregivers engage with the care recipients at a human level, which is important. Quality care is about valuable companionship too. We take time to interact with the client, either by listening to them or chatting. Sometimes, the senior may just want someone to sit with and watch the television. The point is that companionship is an important part of our caregiving approach for those who need it. Chauffeuring is another invaluable service for people who like to get out and about, but can't manage it on their own. We can run clients to medical appointments, events, or drive them to visit friends and family. Chauffeuring can certainly be part of the plan.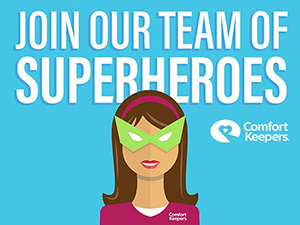 And finally there's peace of mind. It simply means the absence of anxiety and mental stresses. It's an inner peace that comes about by knowing someone professional and qualified is looking out for you. Peace of mind also makes a difference in the lives of the client's immediate family. It takes away a lot of the worry and uncertainty. Families get to work with caregivers and receive regular updates on how things are going. They can also have group discussions and look at any suggested changes or tweaks that may add something useful to the care plan.
If you're interested in a career as a Comfort Keeper, contact us today. Join a team of at home caregivers looking to make a real difference in your local community.  Call us without delay at (360) 373-5678. We look forward to hearing from you soon.

---
Comfort Keepers of Bremerton provides services to the following cities and neighborhoods in Kitsap County, Mason County & Pierce County:
Allyn, Artondale, Bainbridge Island, Belfair, Bethel, Breidablick, Bremerton, Brownsville, Burley, Central Valley, Chico, Crosby, East Port Orchard, Gig Harbor, Gilberton, Gorst, Grapeview, Hansville, Indianola, Keyport, Kingston, Lakeby, Manchester, Medowdale, Navy Yard City, Olalla, Parkwood, Port Gamble, Port Orchard, Poulsbo, Purdy, Retsil, Rolling Bay, Seabeck, Sheridan, Silverdale, South Park Village, Southworth, Suquamish, Tacoma, Tahuya, Tracyton, Union, Waterman, Wildcat Lake and more
3256 Chico Way NW, Bremerton, Washington 98312