Dowagiac, MI
Cass County, MI
Cassopolis, MI
Paw Paw, MI
New Buffalo, MI
Hartford, MI
Mattawan, MI
Baroda, MI
Sawyer, MI
St. Joseph, MI
South Haven, MI
Gobles, MI
Berrien Center, MI
Lawton, MI
Buchanan, MI
Decatur, MI
Benton Harbor, MI
Berrien County, MI
Bangor, MI
Watervliet, MI
Sodus Township, MI
Niles, MI
Van Buren County, MI
Covert, MI
Coloma, MI
Stevensville, MI
Bridgman, MI
Berrien Springs, MI
In Home Care in Cass County, MI
Top-rated in home care for seniors in SW Michigan
Cass County is in the great state of Michigan and has a population of 52,293 at the last count (2010). In that population are a lot of seniors, many of whom need some form of assistance in their daily lives. Some of these seniors turn to a nursing home or assisted living community, but many others would prefer to stay in their homes. Comfort Keepers is proud to offer in home care services to seniors in Cass County. It's a system of care that allows the senior to remain in their home surrounded by the people, places, and things that are most dear to them, while receiving the help they need in their daily life.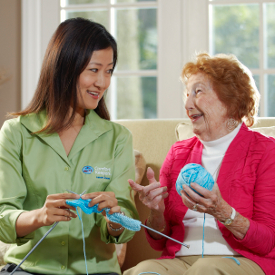 In Home Care in Cass County, Michigan
We understand that seniors may require a wide range of care. Some folks only want an extra pair of hands a couple of times a month. Others may need round the clock supervision and specialist medical care. And there will be others who necessitate something between the two. Whatever your needs, our Comfort Keeper caregivers in and around Cass County, MI, have got your back with our wide-ranging solutions.
Home help services and support include the following three types of care:
General support in home care
Home health support (caregivers are medically trained)
Companionship services
Comfort Keepers is not a medical care agency and we cannot offer medical care services. However, we can help seniors follow their doctor's instructions, such as following a prescribed diet or remembering to take medication at the right time.
Comfort Keepers does offer both general in home care and companionship services. Our caregivers are there to help seniors function and stay safe, as well as helping them enjoy the day-to-day. Some of the daily care services that Comfort Keepers can provide include:
Dressing and grooming
Bathing and hygiene care
Toileting and incontinence care
Meal preparation
Light housekeeping chores
Medication reminders
Transferring and positioning
We understand that one of the most difficult parts of getting older is the social aspect. Seniors need companionship just like anyone else, but decreased mobility can make socializing difficult. Our caregivers take great pride in offering companionship in addition to basic daily care. Examples of our companionship services include:
Healthy everyday conversation
Reminisce about past times (chatting about how things used to be)
Playing board games and cards, etc
Reading
Help with entertaining
Short walks around the neighborhood, if the senior is able
Much more, customized to the senior's desires
Sometimes an elderly person may just want someone to sit with them and watch TV. They might not even want to say very much, but it's still good company for them all the same. This companionship can make all the difference in a senior's life.
We're ready and happy to help you find the best care for you elderly loved one in Cass County! Give us a call at (269) 556-9999 to learn more or schedule a free consultation.
---
Not Sure What Care You Need?
Those interested in learning more about Comfort Keepers of Cass County, MI, and our home care services may contact one of our knowledgeable caregivers to schedule a free, no-obligation consultation. During this session with a professional caregiver, your loved one's needs, circumstances, interests, and desires will be explored. This will allow us to create a care plan tailored to their unique needs, personality, and lifestyle. To get started, contact our senior care team using one of the options listed below.