Dowagiac, MI
Cass County, MI
Cassopolis, MI
Paw Paw, MI
New Buffalo, MI
Hartford, MI
Mattawan, MI
Baroda, MI
Sawyer, MI
St. Joseph, MI
South Haven, MI
Gobles, MI
Berrien Center, MI
Lawton, MI
Buchanan, MI
Decatur, MI
Benton Harbor, MI
Berrien County, MI
Bangor, MI
Watervliet, MI
Sodus Township, MI
Niles, MI
Van Buren County, MI
Covert, MI
Coloma, MI
Stevensville, MI
Bridgman, MI
Berrien Springs, MI
In Home Care Agency for Seniors in Buchanan, MI
Families trust Comfort Keepers to provide quality, affordable in home care for seniors in Buchanan and the rest of SW Michigan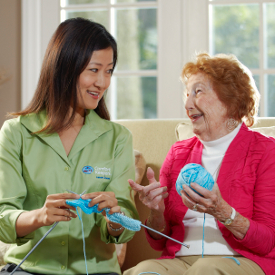 It's always a heartbreaking moment when you realize that your aging parents or grandparents are no longer able to live on their own. Perhaps they can no longer drive themselves, need someone to make sure they take prescribed medication, or just need some companionship because they can't get out to socialize as often as they used to. Many people think that at this point, a nursing home or other assisted living facility is the only option for their elderly loved one. However, in many circumstances, this simply isn't the case. If your aging parents desire, they can still remain in their home with in home care services. These services involve a caregiver who cares for seniors in their own homes. They can be hired for full-time care, or for as little as a few hours a week to help as needed in any Buchanan home.
Whatever your senior's needs, Comfort Keepers is a great choice of care provider in Buchanan MI. Our caregivers, who we are proud to call Comfort Keepers, live up to their name and will do everything they can to keep your senior comfort, active, and happy. Their focus isn't just on the menial (but important) tasks such as doing household chores and running errands, but also on providing true companionship to your senior. They will learn about your loved ones' interests and seek to cater to them, whether that be by cooking their favorite meals with them, doing puzzles or playing chess, or even dancing to their favorite music. Our goal is to keep your elderly parents comfortable and happy as they age in their own home.
Personalized Care Services in Buchanan, Michigan
We understand that every senior and family will have different needs, and so our services are customizable to your unique situation. Our Comfort Keepers can be hired for only a few hours a week to give their primary caregiver a much-needed respite. They can also be hired for around the clock care, or anything in between. We want to meet your care needs, instead of forcing our schedule on you. Our caregivers won't treat your senior as just another faceless client. Instead, they will take the time to get to know your senior and cater their services to their needs and preferences. At Comfort Keepers in Buchanan, we understand that every circumstance is different, and so we don't offer cookie-cutter care. You can learn more about our interactive approach to caregiving here.
Some of the other caregiving services we provide include:
Grooming and Hygiene
Looking and feeling your best is important to everyone, regardless of age. Comfort Keepers strive to accomplish this for the seniors they serve. For clients who fear falling while bathing or have physical or cognitive limitations that make bath-time difficult, our caregivers are there to help. We can assist with shampooing, shaving (with an electric shaver), hair combing and styling, and other grooming needs to help seniors feel good about themselves and maintain appropriate hygiene.
Transferring and Positioning
One of our top priorities is helping our clients move around their homes, especially seniors who experience age or illness-related limited mobility. Our caregivers can assist the elderly with getting in and out of bed, chairs, and wheelchairs. Caregivers are trained in proper transferring and positioning, which can contribute to reducing bedsore risks and reduced risks of falls. If a fall does happen, caregivers are there to offer immediate help.
Mobility Assistance and Transportation
It can be difficult for seniors to lose the mobility they have had their whole lives. To assist with the difficult transition, Comfort Keeper caregivers help seniors remain active by assisting them in getting from place to place in comfort and safety. Caregivers take clients to doctor's appointments, grocery stores, barber's shops, and more.
Grocery Shopping/Errands
Seniors may have difficulty completing all of the errands they need to, such as picking up medication or buying groceries. Our caregivers take care of this problem by running around for you. This can include grocery shopping and other errands, such as stopping at the pharmacy or post office. Your loved ones are welcome to stay home or come along for the ride as a way to stay active.
Toileting and Incontinence Care
We understand the sensitive nature of toileting and incontinence care for our clients. We also know that ignoring these issues is not an option. Our caregivers offer compassionate, dignified help with these personal aspects of daily living, which our senior clients appreciate.
Nutrition
Whether your aging loved one has been prescribed a special diet by a doctor or just wants to improve their nutrition in general, our caregivers can help. They cook hot and wholesome meals to meet nutritional and dietary needs. Additionally, many seniors don't eat enough, but having a companion at dinner encourages them to eat more and makes the meal more enjoyable.
Laundry
Our caregivers can take care of all laundry needs, either in the home or at a nearby laundromat. These services may include washing, drying, ironing, and putting clean laundry away. We know that many people are particular as to how their laundry is done, so caregivers are sure to follow their elderly client's instructions.
Light Housekeeping
No one likes to live in a dirty environment, but housekeeping can be tough for seniors. Our caregivers are available to provide light housekeeping. Our services include vacuuming, dusting, sweeping, mopping, cleaning bathrooms (sinks, tubs, showers, and toilets), cleaning kitchens (sinks, appliances, counters, and taking out the trash), straightening all rooms, organizing closets and drawers, and cleaning any interior windows reachable without a ladder.
Medication Reminders
Although our caregivers cannot administer medications, they can assist in ensuring that clients take their medication as prescribed. Our caregivers can help with opening medication containers, reading labels, and reminding the client when it is time for the next dose. There is no need to worry about whether or not your loved is properly taking their medication when a caregiver is around.
Conversation and Companionship
One thing that seniors lack as they age is companionship and even conversation. Staying socially engaged is important to seniors' health, so Comfort Keepers caregivers are happy to provide companionship to their clients. Our caregivers provide friendly company, conversation, and mealtime companionship — a fantastic way to keep your loved ones engaged and upbeat.
Overall, we strive to provide everything that your senior needs to age happily and safely in the comfort of their own home in Buchanan for as long as possible.
---
Not Sure What Care You Need?
Those interested in learning more about Comfort Keepers of Buchanan, MI, and our home care services may contact one of our knowledgeable caregivers to schedule a free, no-obligation consultation. During this session with a professional caregiver, your loved one's needs, circumstances, interests, and desires will be explored. This will allow us to create a care plan tailored to their unique needs, personality, and lifestyle. To get started, contact our senior care team using one of the options listed below.