Dowagiac, MI
Cass County, MI
Cassopolis, MI
Paw Paw, MI
New Buffalo, MI
Hartford, MI
Mattawan, MI
Baroda, MI
Sawyer, MI
St. Joseph, MI
South Haven, MI
Gobles, MI
Berrien Center, MI
Lawton, MI
Buchanan, MI
Decatur, MI
Benton Harbor, MI
Berrien County, MI
Bangor, MI
Watervliet, MI
Sodus Township, MI
Niles, MI
Van Buren County, MI
Covert, MI
Coloma, MI
Stevensville, MI
Bridgman, MI
Berrien Springs, MI
In Home Care in Mattawan, MI
Top-rated in home care for seniors in Mattawan, Michigan
As seniors in Mattawan age, it's understandable that they may want to continue to live in their own homes. However, they may begin to require additional help and care. That's where Comfort Keepers comes in. The whole idea behind home support, at any level, is to preserve seniors' quality of life. It's a system of care that allows the person to remain in their home surrounded by the people, places, and things that are most dear to them. You want someone you can trust to help care for your aging loved ones, so be sure to choose a reputable agency like Comfort Keepers to provide this valuable home care.
Flexible In Home Care Services
Every senior has a special set of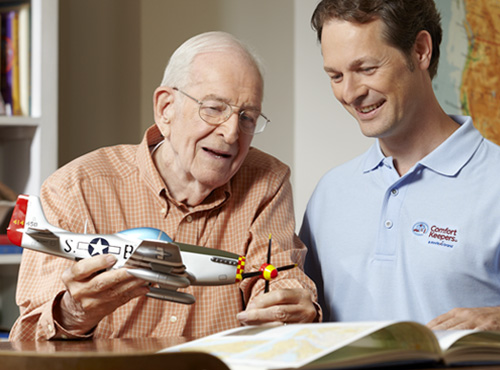 needs. Some seniors might need minimal help like driving them to the grocery store once a week, checking in to make sure they're okay, or helping with small tasks around the house. Other seniors may require full-time, round the clock care. We've found that for most seniors, the level of care required is somewhere in between these two extremes. That being said, whatever level of care your loved one requires, Comfort Keepers St. Joseph can help.
Home help services and support include the following three types of care:
General support in home care
Home health support (caregivers are medically trained)
Companionship services
Many people understand that the elderly require general support in home care, which includes tasks like preparing meals, toilet help, general household chores, and more, but many people underestimate the value of companionship. However, this is often vital to the health of seniors, especially those who are living alone, but even senior couples benefit from outside companionship. Company can help prevent loneliness, which can be detrimental to a senior's health. That's why Comfort Keepers is proud to offer companionship as a part of our in home care service.
Examples of companionship services include:
General everyday conversation
Reminiscing about the past
Looking through photo albums
Playing card games
Reading favorite books or the paper together
Help with entertaining family and guests
Carrying on hobbies such as gardening
Anything else of interest to the senior
Sometimes an elderly person may just want someone to sit with them and watch TV. They might not even want to say very much, but it's still good company for them all the same. As for the other services, a trained healthcare provider can also get involved in general home help. But general helpers in in home care support are not qualified to carry out or offer suggestions on health-related matters. However, many clients are very satisfied with the level of care that Comfort Keepers are able to provide.
---
Not Sure What Care You Need?
Those interested in learning more about Comfort Keepers of Mattawan, MI, and our home care services may contact one of our knowledgeable caregivers to schedule a free, no-obligation consultation. During this session with a professional caregiver, your loved one's needs, circumstances, interests, and desires will be explored. This will allow us to create a care plan tailored to their unique needs, personality, and lifestyle. To get started, contact our senior care team using one of the options listed below.