Jul 11, 2017 by Stephen R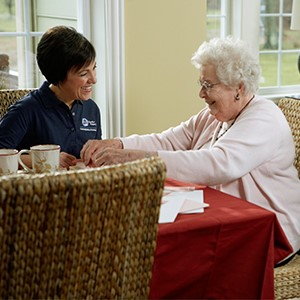 Elderly home care options are plentiful in today's society of mobile technology and increasing demand for elders that they be cared for in their own home. Comfort Keepers® offers a variety of technology options to create a safe and happy home environment for seniors who would like to continue to live in their own homes for as long as possible. Comfort Keepers is passionate about providing top-of-the-line elderly home care through a combination of specially trained senior caregivers and the most up--to-date technology in the industry.
Here is what makes us different:
Have physician Medical Director on staff: Gregory Sheehy MD
Been in business since 2001.
Have a professionally accredited geriatric care manager on staff
Have a Board Certified gerontologist nurse (RN-BC) on its staff
Comfort Keepers offers the FINEST continuum of care services, beginning with companion care to homemaker services to personal cares (Activities of Daily Living) and including Skilled Nursing Care, Training and Education, Case Management, Physical Therapy, Occupational Therapy, Speech Therapy, Meals on Wheels and Transportation Services.
Comfort Keepers promotes the culture of "interactive caregiving" to engage the client in maintaining their independence and dignity.
The Plan of Care is customized and based on client needs. 
Caregivers for Comfort Keepers are trained before going into client's homes and are required to complete 12 Continuing Education credits annually.  Also, Comfort Keepers have specialized training in memory care and care for Parkinson's patients.
Periodic supervisory visits (every 60 days) by our Registered Nurse of Care Coordinator ensure that we are delivering the quality and level of care promised
Comfort Keepers has quality, experienced management with two Certified Senior Advisors, a physician (MD) for consults, and RNs. The owner has over 35 years in health care, is Board Certified in health care management, a Fellow in the American College of Healthcare Executives (FACHE), a Certified Senior Advisor (CSA) and a member of the Society of Certified Senior Advisors (SCSA). He has a Master's Degree in Health Care Administration and is a licensed Nursing Home Administrator.
Comfort Keepers has invested in a supplemental survey instrument which monitors client & caregiver satisfaction.  This is very rare as it not a requirement for a Comfort Keepers office to do this. It speaks to a commitment to greater quality and satisfaction to our clients and staff.  It also demonstrates a desire to identify and resolve issues before they become greater challenges.
Comfort Keepers has developed an Exclusive Concierge Service which identifies trusted local service providers.  This Concierge Service offers comfort and peace of mind for clients when they seek the assistance of an accountant, remodeling service, elder law attorney, etc....
Other items relating to quality:

Accredited member of The Better Business Bureau (BBB) with an A+ rating
 
National Private Duty Association (NPDA) member at national and state levels
 
Charter member of Elder Care Matters
                                                     
National Aging in Place Council member
 
Wisconsin Personal Services Association (WPSA) member
 
Member of 17 local Chambers of Commerce
 
Volunteer Advisory Board comprised of local business, medical, legal, and research experts

Comfort Keepers hire caregivers as employees.  Comfort Keepers conducts multiple face-to-face interviews with prospective caregivers and requires personal and professional references, as well as credit, criminal, and driving background checks.  All Comfort Keepers caregivers are bonded, insured, and covered by Workers' Compensation.
Comfort Keepers also provides: matching of clients and caregivers, patient's rights and responsibilities, HIPAA compliance, code of ethics, and telephony check in and check out.  
Choosing elderly home care has many benefits for both the senior and the senior's family. Elderly home care from Comfort Keepers gives seniors the ability to continue living comfortably in their own homes.