Welcome to Comfort Keepers In-Home Care Agency in Plymouth, MI

Seniors can age with dignity and keep their independence and quality of life by receiving in-home care services from Comfort Keepers. With complete in-home support readily available when needed, our many care services are designed to help seniors live comfortably and safely in their homes.
Our in-home care services in Plymouth use our distinctive Interactive Caregiving methodology, which emphasizes motivating seniors to take on greater responsibility for their care with the aid of qualified assistance and kind company.
Our main goal is to provide the best in-home senior care in Plymouth for seniors who want to stay home as they age.
As seniors enter their golden years, they should weigh the benefits and drawbacks of various senior care options. Although there are alternative options like nursing homes and assisted living facilities, most seniors and their families opt for long-term care in the convenience of their loved one's home to maintain their independence for as long as feasible.
Compared to other senior care options, in-home care for seniors gives families more choices. Without worrying about visiting hours limits, families can enjoy spending time with their senior loved ones in their homes.
Understanding Senior Home Care in Plymouth
There are a lot of different kinds of senior home care in Plymouth, MI. At its core, it's about helping seniors who need help with daily tasks while still letting them live on their own.
With a variety of in-home senior care services, such as meal preparation and light housekeeping, Comfort Keepers has been enhancing lives since 2004. Thanks to our reputable home care agencies' exceptional in-home care and tailored approach, every senior receives the maximum level of assistance they require.
In-Home Care Services Offered by Comfort Keepers
With extensive in-home care services, organizations like Comfort Keepers are reshaping the senior home care industry. Because we know that each senior has specific needs, our in-home caregivers develop individualized care plans.
Interactive Caregiving Philosophy of Comfort Keepers
The interactive caregiving approach is a hallmark of Comfort Keepers' in-home care services. This philosophy encourages seniors to live independently while receiving help where needed. For instance, a caregiver may assist in everyday tasks such as meal preparation or grocery shopping, promoting engagement through activities like puzzles or gardening.
In addition to this innovative method, Comfort Keepers offers specialized Alzheimer's and dementia care amongst our wide range of in-home care services - showing how our caregivers go above and beyond for seniors with cognitive decline.
Private-Duty Nurses Provided by Comfort Keepers
At Comfort Keepers, we set apart with unique services like dedicated private duty nursing services in Plymouth. These services give families peace of mind, knowing that trained professionals closely monitor their loved one's health and progress.
Comfort Keepers focuses on physical health and ensures emotional well-being through relationship-based care – proving that quality surpasses quantity in Plymouth senior caregiving.
The Value of Personal Care Services in Senior Home Care
With assistance with daily living tasks, personal care services are the foundation of senior home care. For seniors to live freely and enjoy their senior years at home, we understand that more than only physical assistance must be given.
As part of personal care, many in-home care services are provided, such as making meals and running errands. That's why our senior caregivers in Plymouth are available 24 hours a day for people who need steady care and during the day for family caregivers who need a break. We also offer specialty help, like support for people with dementia and help after hospitalization.
Beyond practical tasks like light housekeeping or grocery shopping, our highly trained caregivers are companions giving compassionate care. They're there during difficult times to provide comfort while allowing seniors to maintain dignity and respect in familiar surroundings.
With this level of personalized service comes peace of mind, knowing your senior loved one is cared for by professionals working towards the highest quality standards. This means thorough background checks on all staff members and continuous training to ensure they meet ever-evolving home health aide requirements.
In short, when you engage a home care agency like Comfort Keepers for personalized in-home senior care services, you're securing more than just help – investing in a higher quality life for your loved ones right where they want it most - at home.
Comparing Comfort Keepers with Other Senior Home Care Agencies in Plymouth
When looking at senior home care agencies in Plymouth, Comfort Keepers stands out due to our diverse range of in-home care services. Having served the community since 2004, we've established a reputation for providing uplifting and specialized senior home care in Plymouth.
The Distinctiveness of Comfort Keepers' Services
Apart from our specialized care services, what sets Comfort Keepers apart is our wide range of home care options. We provide comprehensive help tailored to meet each senior's individual needs. This includes personal care, respite support, meal preparation, and more.
Our approach goes beyond simply completing tasks - engaging seniors in activities that enhance quality of life while fostering independence.
Schedule a Free Home Assessment with Comfort Keepers
Exploring senior home care in Plymouth is like stepping into a world of compassion and quality—a realm where agencies like Comfort Keepers put our hearts on the line daily.
A universe that thrives on personal touch, where caregivers lend a hand with daily tasks or provide medical support as needed. Our caregivers make sure our seniors live independently yet comfortably at home.
It's all about cherishing golden years while being enveloped by the best care available in Plymouth.
Call our office to learn how Comfort Keepers can help your loved one in Plymouth, Canton, Westland, or the nearby places get good in-home care. Our compassionate team is happy to answer your questions and set up a free, no-obligation meeting with one of our care coordinators to discuss your needs.
---
Apply to Comfort Keepers Today!
Comfort Keepers is looking for committed and experienced in-home care caregivers in Plymouth, Canton, Westland, and the surrounding region! We would love to talk with you if you have a passion for helping others and like working with elders! Click the button below to read more about our incredible perks, open opportunities, and to apply for instant consideration. We're excited to chat with you!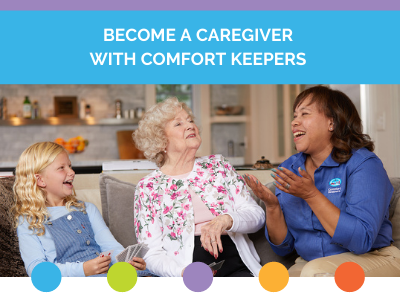 Our Services
We offer a wide range of services to our clients between our in-home senior care services and specialized care services. Our caregivers can assist with everyday tasks and partake in favorite activities or provide specialized assistance for seniors with chronic illnesses or conditions.
In Home Care
Senior Transportation - we can drive seniors to and from appointments
Personal Care - dignified and respectful assistance with bathing, dressing, and grooming
Respite Care - our caregivers will step in when family caregivers need a break
---
Interactive Caregiving
Through our Interactive Caregiving Philosophy, we help seniors and other adults live independently and safely. We strive to help seniors live their lives to the fullest by doing tasks with them instead of for them. We help seniors stay active and engaged with their friends, family, and community by using tools like our GrandPad. Using techniques like this encourages feelings of independence, freedom, and happiness.
---
Proud to Celebrate 19 Years of Helping People!

---
Schedule Your Free Senior Care Consultation
To learn more about how Comfort Keepers can provide quality in home care to your loved one in Plymouth, Canton, Westland, or the surrounding cities, please call our office today. Our staff will be happy to answer your questions and schedule a free, no-obligation care consultation with one of our coordinators. If you need to visit our office, our address is 981 N Mill St, Plymouth, Michigan 48170 and our entire office space is fragrance-free, To get started, click one of the buttons below.
---