Comfort Keepers has been bringing uplifting 24 hour home care services to seniors in Plymouth, Canton, Dearborn Heights, and the surrounding areas since 2004
Comfort Keepers of Plymoth, MI is a leading provider of long term home care services. Our uplifting caregivers provide customized care plans that may include personal care and companionship-homemaker services. At Comfort Keepers of Plymouth, MI, we understand that each senior has unique needs, abilities, and limitations so we work to create a personal care plan that fits the needs of your loved one. We pride ourselves on the compassionate and uplifting care our caregivers deliver, when and where you need it. Whether your loved one requires 24 hour care or just care for a few hours a week, we can work with you to schedule your care services.
Our services include, but are not limited to:
Personal Care/Housekeeping
Alzheimer's & Dementia Care
Respite Care
Transitioning Home Care
End Of Life Care
24 Hour Care
---
We also provide respite care for the familial or primary caregiver to give them a well-deserved break with the peace of mind that your loved one is being cared for by the best. Our home care services also include dementia care, Alzheimer's care, end of life care, palliative care, incontinence care, bathing and grooming assistance, transitioning care and a variety of other personalized in home supportive services.
Through our Interactive Caregiving Philosophy, we help seniors and other adults live an independent, safe, quality life. We are there so you don't have to worry about your loved one feeling lonely or unsafe. contact us to learn how we can help you with long term home care services, or call us anytime at (734) 203-0015.
NOT SURE WHAT CARE YOU MAY NEED?
If you have worried about your senior loved one living on their own, it might be time to consider in home care. Begin the process by taking a short survey to help you better understand when the time has come to pursue care options.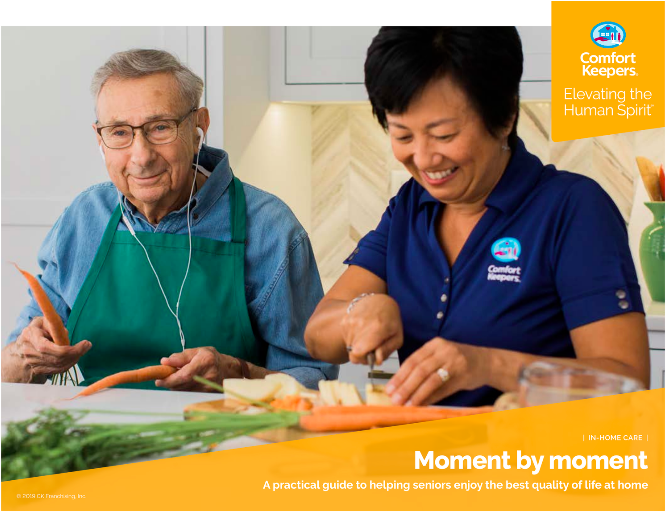 HOME CARE GUIDES
Download our home care guides to help find a solution for providing care for your loved ones. Here are some interesting facts and tips about being the caregiver of the family:
- The average caregiver spends 44.6 hours per week caring for a loved one
- Signs of fatigue from being a the sole caregivers are physical/emotional exhaustion sleep issues, headaches and more
- Make sure to bring a list of questions to your loved one's doctors appointment to get all the answers you need!
---
We can also help keep your loved one be active and social through our new technology solutions!
With our easy-to-use tablet, your senior loved ones can open a door to the digital world. This enables them to stay connected and share with their loved ones seamlessly- so they are never lonely! They can also play fun games, listen to music, watch videos, and more. See all the benefits a senior tablet can have for your loved one.
---
Proud to celebrate 16 years of helping people!

Comfort Keepers of Plymouth, MI celebrated their 16th Anniversary surrounded by loyal staff, caregivers and clients in May 2019.
---