Why Our Columbus Home Care Providers Do What They Do!
Learn why joining our team of Columbus home care providers is deeply rewarding.
Here are a few reasons our Columbus home care providers do what they do:
Because each one of our clients is someone's loved one!   
Because each client has a unique story and past that we can learn from!
Because we love to care and give back to our community!  
Because we may need help ourselves one day! How would we want to be treated and cared for?
Because we........... are Comfort Keepers!
Join our team of Columbus home care providers today! -
"Where everyone knows you by name….even the owners"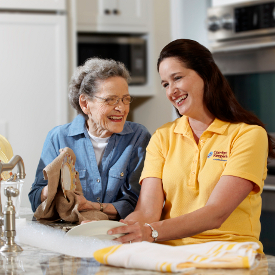 Become a Comfort Keepers Caregiver Today!
Before signing on as a caregiver, you may have some questions about how our company works.  Please visit our employment pages to give you a much clearer picture of what it would mean to work with Comfort Keepers of Hilliard.
No further questions, feel free to start the employment process and apply today to become one of our exceptional home care providers!