What We Do
At Comfort Keepers®, we provide personalized, compassionate in-home care for seniors with the goal of helping your loved ones live an independent life with dignity in the comfort of their own home. Our experienced & highly trained caregivers follow a customized plan to provide a variety of personal care, companionship-homemaker and assisted living services to make you and your loved ones feel at ease and comfortable at all times. 
There are plenty of options already for these kinds of services in the market. But what sets us apart is our recruitment and training process. At Comfort Keepers®, our experienced caregivers go through a thorough onboarding and training process before being allowed to dispense in-home care services. 
How We Can Help
We provide solutions that range from assisted living, senior care, in-home care for seniors, light housekeeping, respite care for the elderly, incidental transportation, medication management, Alzheimer's and Dementia care, live-in care and more. Our commitment to preserving their dignity also extends to services such as grooming, bathing, personal hygiene and other home health care services. 
Why You Can Trust Us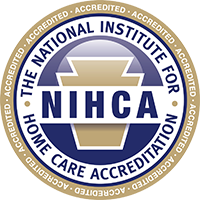 We are an established agency that follows the strictest guidelines concerning client care and caregiver accountability. We are accredited by the National Institute for Home Care Accreditation (NIHCA). This puts us in a select group of home care providers that demonstrate a a commitment to responsible, accountable quality service as governed by NIHCA.




Our Locations
Our in-home health care services are available in the towns of Maplewood, Short Hills, Millburn, Rutherford, Roseland, Glen Ridge, Hackensack, Essex Fells, Union, Fort Lee, South Orange, West Orange, Montclair, Verona, Hasbrouck Heights, Leonia, Ridgefield Park, Palisades Park, Wood-Ridge, Bogota, East Rutherford, Carlstadt, Moonachie, Teterboro, South Hackensack, Clifton, Vauxhall, the Caldwell, and the select surrounding areas in Essex, Bergen, Passaic, Hudson, Union, Morris & Middlesex counties.
Experience the difference of Comfort Keepers® today and see the difference!
Call us right now at (973) 707-2310 | (201) 288-2200 
What sets us apart
What makes Comfort Keepers® different is our people, our thorough on-boarding and employment hiring practices, our commitment to quality senior in-home care and the excellence of our personalized service. It would be our honor to show you and your loved ones the Comfort Keepers difference! Please contact us for FREE IN-HOME consultation today!
Click here to read more about our unique philosophy of care called Interactive Caregiving or download our Quality of Life, Health & Well Being, and Caregiver Challenges guides.
Fraud, Business Ethics and Compliance Notice
The National Institute for Home Care Accreditation requires us to inform you of our commitment to our compliance with laws and regulations governing our business practices and direct service delivery and to the highest level of integrity, ethical standards in our dealing with the people and communities served by the organization.
Therefore, it is the policy of the organization to deliver service and conduct its business in compliance with all applicable laws, regulations and ethical standards and have established mechanisms to prevent and detect fraud, ensure conformity with laws, regulations, program requirements and guidelines, and ethical business practices by all of its employees.
Should you at any time observe the staff of the organization doing anything illegal, fraudulent or be asked by a staff member to do something you believe to be fraudulent, contrary to the law or program regulations or guidelines or unethical, please call the agency at (973) 707-2310 and ask to speak with the Chief Executive.