Customized senior home care services to meet the unique needs of your loved ones in Kalispell, MT and the surrounding areas
As your elderly loved one continues to age, living at home for as long as possible becomes a priority. He or she may begin to struggle with mobility, sight or memory, which may hinder or prevent them from doing everyday tasks around the house. Our goal is to help seniors and other adults improve their quality of life at home by assisting with home health care services that can help prolong independent living.
Comfort Keepers in Kalispell, MT provides essential personal care, companionship, and housekeeping services for seniors throughout the state of Montana. Our leading home care agency delivers a wide range of senior care services, working with the care recipient and their families to create a customized care plan that meets their specific needs.
Whether it's for a few hours each week or around-the-clock assistance, Comfort Keepers of Kalispell provides the highest-quality home care.
Our services include:
---
Our team takes pride in hiring the best care providers in Montana. Each one of our caregivers is invested in the well-being of our clients and developing trust. We focus on engaging seniors in their care and activities they enjoy, contributing to a happier, healthier life in the comfort of their home. Whether you want to visit the local senior center, go for a walk in a park or trail, or simply go to the mall for shopping or walking, our caregivers can provide incidental transportation and companionship.
To learn more about how our elderly care services can help your loved one, contact us online or call our office in Kalispell, MT at (406) 206-0897 today.
NOT SURE WHAT CARE YOU MAY NEED?
If you have worried about your senior loved one living on their own, it might be time to consider in home care. Begin the process by taking a short survey to help you better understand when the time has come to pursue care options.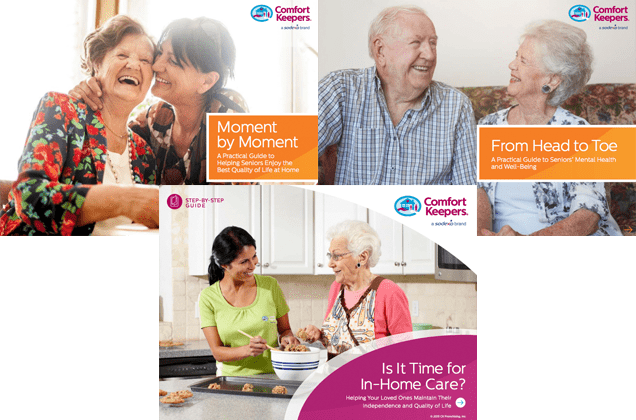 HOME CARE GUIDES
Download our home care guides to help find a solution for providing care for your loved ones. Here are some interesting facts and tips about being the caregiver of the family:
- The average caregiver spends 44.6 hours per week caring for a loved one
- Signs of fatigue from being a the sole caregivers are physical/emotional exhaustion sleep issues, headaches and more
- Make sure to bring a list of questions to your loved one's doctors appointment to get all the answers you need!
Comfort Keepers of Kalispell is proud to serve the following areas of Montana:
Kalispell, Polson, Whitefish, Columbia Falls, Missoula, Bigfork, Pablo, Ronan, Plains, Thomspon Falls, St. Ignatius, Kila, Anaconda, Drummond, Arlee