The Family Room: Presented by Comfort Keepers Home Health Services of Anchorage, Fairbanks, & Wasilla, AK 
Comfort Keepers Home Health Services of Anchorage, AK: Learn more about the interactive Family Room portal available to seniors and their families
Comfort Keepers home health services introduce the Family Room; a communication supercenter for your family to use regarding your senior loved one's home care.  We know first-hand how challenging utilizing a senior home care service can be for family members. Children or grandchildren of the care recipient may trade conflicting information on care and may even disagree about what the care should include.
Comfort Keepers of Anchorage, Alaska is a leader in home care services.  In order to help bridge the divide between seniors in home care services and your family, we've come up with the Family Room, a new online tool that allows you to monitor your loved one's in-home care wherever you have the internet connection.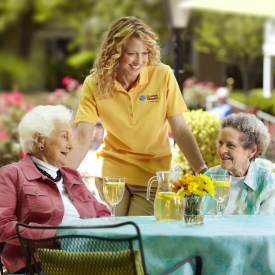 What Is The Family Room?
Family Room transports the whole home care team into one (virtual) room where they can share all information on Mom or Dad's care.  Everyone will be equally knowledgeable, with equal access to participation in your loved one's care
Family Room supplies all parties with regular, real-time updates of the home health services Comfort Keepers provides. For example, the caregiver completes a checklist as he or she does specific tasks that are part of our home health services. You can use the Family Room to view your family member's appointments and other activities.
This puts everyone on the same page—a web page that is! You'll find out when a family member stopped by to visit your loved one, when the caregiver called in or picked up medication refills, how many walks your loved one went on during that day, etc. The Comfort Keepers caregiver uses the Family Room to send you notes, and you can make suggestions or ask questions.
Family Room was developed by the company's founder, who didn't like using a paper-based documentation system for his family members' health care services.
The home health services Comfort Keepers provides are highly customized.  Our caregivers start the process with a personalized home care plan that fits the unique needs of your family.  Now, Family Room takes this personalized approach to the next level.  After you've helped craft a one-of-a-kind care plan, shouldn't you interact as thoroughly as possible?
Family Room is automatic for anyone who arranges home health care with Comfort Keepers.  It helps us fulfill our mission of delivering care that provides peace of mind for everyone involved.