It's not always easy knowing where to turn when your loved ones need a little more help around the house. With Comfort Keepers® in Addison, in-home care is just around the corner. Our skilled caregivers – we call Comfort Keepers® – work to create a plan of care that meets your loved ones' exact needs. Whether they require assistance with bathing & hygiene, light housekeeping, or if they just simply want to visit with a friend for a few hours a week, we can help.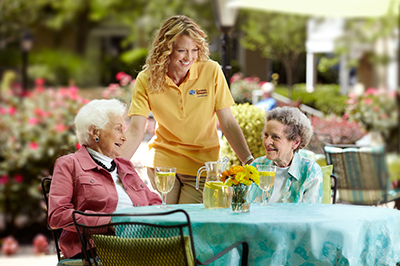 Comfort Keepers also wishes to help promote independence by engaging and interacting with seniors. We understand that some may wish to do this by staying active in the Addison community. To make this possible, Comfort Keepers can provide safe, dependable transportation to their desired locations. If they want to take a leisurely stroll by the fountains at Addison Circle Park and then grab lunch at the Astoria Caffe and Wine Bar, we can help them do just that. We can also take them to the grocery store or any scheduled medical appointments they may have. Whether it's enjoying a hobby or continuing to do daily activities, Comfort Keepers is ready to lend a hand.
For more information about our unique style of in-home care and how we can help those closest to you in Addison, give us a call today at (972) 573-4100.