Farmers Branch, TX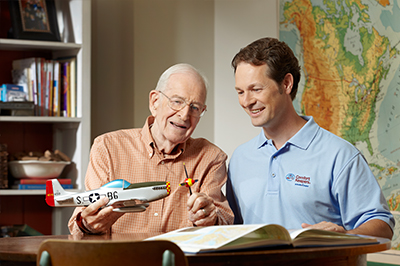 Comfort Keepers® is delighted to provide seniors and other adults in the Farmers Branch area with quality in-home care. With our variety of services, which includes everything from companionship to meal preparation, your loved ones will be given a plan of care that fits their exact needs. Our professional caregivers – we call Comfort Keepers® - work to make each visit as pleasant and engaging as possible.
One of our goals is to promote the physical and emotional wellbeing of seniors, and sometimes that requires getting back out in the community and socializing with others. To help make this possible, our seniors drive to and from various locations in Farmers Branch. If your loved ones wish to plan a day at the Farmers Branch Senior Center to visit with friends, play fun games, and take a computer class, we can help get them there safely and on time. If they need to get to church for a Saturday evening or Sunday morning service, they can rely on a Comfort Keeper for transportation and companionship.
We look forward to providing you with peace of mind and your loved ones with the care they deserve. To learn more about how we can help, give us a call today at (972) 573-4100.