It's common for people to require more help as they grow older. Medical conditions, such as dementia or arthritis, can make daily activities difficult. Often, family members strive to provide the help their loved ones need. However, many seniors need more help than their families can provide. Fortunately, in-home senior care is available for elderly people who require help around their homes. Here are four ways an in-home caretaker can assist you: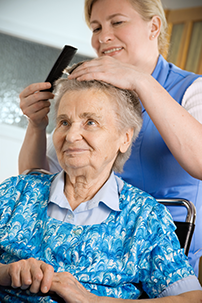 1. Provide Hygiene Assistance
Proper hygiene can make life more pleasant. It's easier to feel comfortable when you're clean and tidy, but good hygiene is necessary for more than just simple comfort. It's also required for continuing good health. An in-home caretaker will help you maintain your hygiene. They will help you bathe, either by helping you into the shower or by providing sponge baths. Your caretaker can also help you brush your teeth, comb your hair, and get dressed if you're unable to do these tasks on your own.
2. Run Errands
Many senior caretakers' tasks occur inside the home. However, some tasks must be completed elsewhere. Running errands is a vital part of everyday life that keeps a household running. Healthy food and household supplies must be procured from stores, but seniors with mobility challenges may be unable to shop for themselves. Your in-home senior caretaker can go grocery shopping so you don't have to.
3. Provide Transportation
It's common for seniors to lose their ability to drive as they age. Failing eyesight and poor reflexes can make driving unsafe. An in-home senior caretaker can provide the transportation you need to get to and from your doctor's appointments.
4. Provide Companionship
Isolation is a serious condition that affects many senior citizens. Seniors who live far away from friends and loved ones may suffer from this condition more acutely, but it can affect anyone who lives alone. A lack of social interaction can worsen feelings of depression and hopelessness in many seniors. In addition to providing material care, an in-home senior caretaker can provide compassionate companionship. Many seniors thrive when they have someone to spend time with on a daily basis.
These are just four things a skilled caregiver can do for you. If you're interested in securing home care for yourself, or a loved one contact our office 24 hours a day at (973) 707-2310.
Our caregivers are vetted for suitability, hired for compassion and insured for your peace of mind.
Get started and call us today so you can rest assured that your senior will be in good hands with a competent, caring professional.