Discover How Interactive Caregiving Has Revolutionized Home Care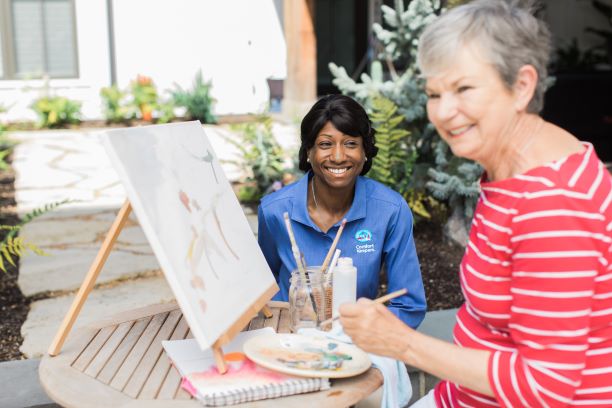 There is more to home care than providing assistance with physical tasks. In order for seniors to be healthy and happy, it is not enough to clean their homes, prepare their meals, and help with other daily activities; they need to get adequate physical, mental, social, and emotional stimulation to lead truly high-quality lives as they age.
Our Unique Approach To Home Care
At Comfort Keepers, we have adopted a holistic approach to care that has changed the caregiving industry - Interactive Caregiving. Through this caregiving philosophy, we are able to make a real difference in the lives of our clients and enable them to make the most out of their senior years.
Interactive Caregiving is the foundation of all our care plans, meaning that our caregivers always encourage seniors to actively participate in their care. The level of their participation depends on the client's age, abilities, interests, and preferences, but it is important to keep in mind that almost all activities can be modified to fit the unique needs of your loved one.
The four pillars of Interactive Caregiving are:
Mental activity - A healthy and sharp brain allows for improved independence and prolonged vitality in seniors. It also prevents mental health problems and enables seniors to maintain an optimistic outlook on life as they age.
Physical activity - Moving their bodies can allow seniors to remain physically and mentally healthy. It can also reduce the symptoms of some health conditions.
Proper diet - Eating a well-balanced diet is important for the overall well-being of older adults. Proper nourishment provides them with the energy they need to remain active and engaged throughout the day.
Safe living environment - Keeping a clean, organized, and clutter-free home can reduce the risk of falls and injuries at home.
As to how Interactive Caregiving is implemented in our care plans, it is fairly easy. Our caregivers encourage seniors to engage in activities of daily living they find enjoyable.
For example, together with a caregiver, your loved one can go for daily walks, play board games or solve puzzles, go shopping or eating out, prepare meals, talk about current events and share memories from the past, look at family photos, organize their home, and much more.
Contact Us Today!
When your loved one is in control of their care, they can boost happiness and confidence, feel needed and valued, and stay connected with the world around them. If you would like to know more about us and what we can do to support your parent in their golden years, please contact us online or call (270) 387-3221 to speak to a care coordinator. We are happy to be of service!