Welcome to Comfort Keepers - A Leading Home Care Agency in Twin Falls
As a leading provider of home care services for the elderly, Comfort Keepers has been a constant source of inspiration and joy for more than two decades. It is our mission to help senior citizens maintain their independence by providing compassionate care that is focused on their physical, mental, and social well-being. Call Comfort Keepers at (208) 874-0664 for a no-obligation consultation.
---
Interested in a Career at Comfort Keepers?
Comfort Keepers is on the lookout for people who are dedicated and compassionate. A Comfort Keeper has a wide range of career advancement opportunities. You'll assist the elderly in preserving their dignity and autonomy. You'll serve as a companion and support system for the elderly people in your care. Besides that, you'll be making a positive impact on the lives of your customers. Apply for one of our open positions by clicking the button below.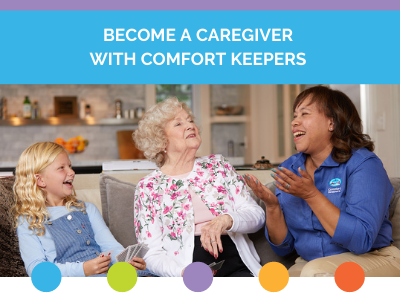 ---
Are you interested in becoming a Comfort Keepers Caregiver?
Our caregivers are the people who are at the heart of every Comfort Keeper business - the people who help seniors by providing the distinct Comfort Keepers brand of senior care. Those who want to work in and manage offices, coordinate client care, or advertise Comfort Keepers Services can do so. The best part about Comfort Keepers is that we promote from within. If you start as a caregiver but wish to work in the office, Comfort Keepers is committed to helping you advance.
See why so many have chosen Comfort Keepers as their career:
Flexible Scheduling
Competitive Pay
Rewarding Career Helping Others
Career Advancement Opportunities
Kick-start your career in HealthCare
Health Education and Care Training
---
Our Home Care Services
All kinds of home care services have been designed to make it easier for our clients to live at home alone. Your loved one will receive assistance with light housekeeping, meal planning and preparation, and errand running for groceries, prescriptions, and other essentials. With our help, seniors can attend medical appointments, social gatherings, or other important events with ease.
Companion Care: This is a service that provides assistance to senior citizens with their daily routines and activities.
Personal Care: Personal care is the provision of considerate assistance with activities of daily living, such as bathing, dressing, and grooming.
Senior Transportation: We provide transportation services for the elderly so they can get to and from appointments in a safe and timely manner.
Seniors and Technology: Our team can assist the elderly in utilizing technology to stay in touch with loved ones and carry out their daily responsibilities.
Interactive Caregiving: Our holistic approach to home care ensures that every client has the best possible quality of life through interactive caregiving.
24 Hour Care: Around the clock supervision and care for seniors
Alzheimer's and Dementia Care: Our caregivers help keep a safe environment and provide assistance to seniors experiencing difficulty with cognitive decline
End of Life Care: To assist families in making the most of their time together, there are services to provide relief and support
In-Facility Care: Your loved one will never be alone with home care services. Our caregivers provide companionship and personal care, and we use technology to help seniors stay socially connected and to keep their loved ones informed about their health.
Post-Hospital Care: Assisting your loved one's recovery and discharge from the hospital is made easier with the help of this specialized care.
---
Unsure Of What Care Is Right For You Or A Loved One?
If you're not sure if your loved one needs help remaining independent or which services are ideal for their home care plan, contact our agency. A free, no-obligation consultation is available to help you get started—from starting the conversation to getting ready for your first appointment and beyond. Click on one of the buttons below to get started with Comfort Keepers serving those in Twin Falls, Burley, Rupert and surrounding areas.
See if In Home Care is Right for Your Family
---






Take a peek at what we have to offer to seniors by seeing how Jackie and Don plan their visits together! Elevating the human spirit involves interweaving love and joy into every moment.








---
What Our Clients Have To Say
"Our family has had the Good Fortune of dealing with Comfort Keepers for the past 15 years ever since my mother moved to Idaho. They have been willing to get involved with my mothers Health Care assistance from what some would consider meaningless involvement (early morning wake up calls) to constant 24 hour oversight. They have always been there to assume the responsibility and it has taken a big load off our family and they in a way have become like a caring concerned member of our family. We are so thankful for finding them and their constant vigilance of our Mom. Thank You Comfort Keepers."
- Mr. Horner