Welcome to Comfort Keepers - A Leading Home Care Agency in Spokane, WA
Comfort Keepers is a leading provider of quality elderly home care dedicated to elevating the human spirit for today's seniors and their families. Across the nation, our trusted caregivers provide customized home care plans that include both personal care services and companion care services to help seniors achieve greater independence and more purposeful lifestyles.
---
Do You Want A Career At Comfort Keepers?
Comfort Keepers is looking for team members who are compassionate and caring. You will have various opportunities to enhance your career as a Comfort Keeper. You'll aid seniors in maintaining their dignity and health. For the elderly in your care, you'll provide as a support system and a companion. In addition, you'll be making a difference in your clients' lives. To apply for one of our open roles, please click the icon below.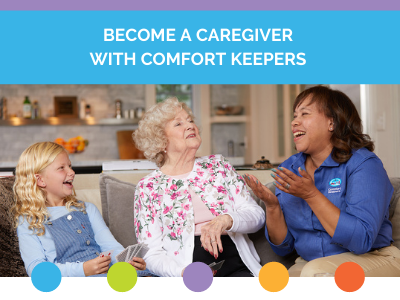 ---
Our Home Care Services
We offer two types of care at Comfort Keepers: in-home care and specialized care. We are dedicated to helping elders with a variety of needs, ranging from simple daily assistance to hands-on care for specialized needs and ailments. A detailed list of our senior care services can be seen below.
Each care home plan is developed based on a "Client Centered Care" approach, a philosophy in which we wholeheartedly emphasize seniors' involvement in their own care. Elevating the Human Spirit encourages seniors participate or assist with tasks or other fun activities planned by their Comfort Keeper . Whether your senior loved one needs temporary, part-time or full-time care, our caregivers are committed to making every moment count. We are now offering virtual care assessments to keep you and your family safe and healthy!
---
Schedule Your Free Consultation
To get started with Comfort Keepers and our home care services, contact one of our trained care coordinators for a free, no-obligation consultation. We will discuss your loved one's needs, conditions, hobbies, desires, and more during this session. This will allow us to tailor a care plan to their specific needs, personality, and way of life. Please contact our senior care agency by clicking one of the options below to get started. For more information or to speak with one of our trusted care coordinators, please call us at (509) 796-7738 today or click the button below.