Alzheimer's and Dementia Care in Sioux Falls, SD
Compassionate Alzheimer's care and dementia care services for seniors in Sioux Falls, Crooks, Dell Rapids, SD and surrounding areas
Memory care is becoming more and more necessary for seniors in eastern South Dakota, and Comfort Keepers Home Care is here to help. We're dedicated to keeping every one of them happy and independent in their own homes, particularly when it comes to dementia care and Alzheimer's care. Among the tens of thousands of seniors we assist, 18 percent have dementia or Alzheimer's disease, which means there are a lot of families in need of assistance. We recognize the challenges that families encounter when caring for a senior with Alzheimer's disease or dementia, particularly when it comes to allowing them to remain at home safely. We want to help. Learn more by calling us at (605) 638-9791.
Caregivers Who Get the Job Done
We employ a team of specially trained caregivers who engage clients in intellectual, physical and emotional interactions that complement medical treatment and improve the quality of life for seniors and their families. We can help care for your loved one at home, giving you the support you need. We believe that everyone should experience connection, purpose and uplifting moments, no matter their age or the level of dementia or Alzhemier's care they need. We'll come to their home no matter where they live in Sioux Falls, SD and the surrounding area.
By choosing Comfort Keepers Home Care, families receive support that includes:
Specially trained caregivers
Family education to better understand dementia
Tasks built into the care plan and geared to a senior's interests to engage them physically, mentally and emotionally
In-home services such as personal care, companionship, food preparation, medication reminders, and family respite care
SafetyChoice® in-home safety technologies, including medical alert systems and motion detectors
We understand Alzheimer's disease, dementia symptoms, how it affects behavior, and that it progresses at different rates for different seniors. We create and follow an individualized dementia care plan that focuses on both physical and mental needs and goals.
How Comfort Keepers Home Care Can Help With Dementia Care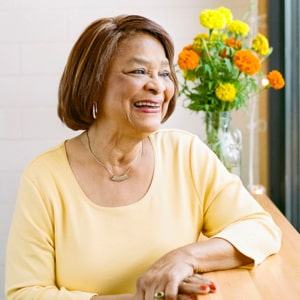 Our caregivers are screened for empathy, trained to help seniors with Alzheimer's disease and other forms of dementia, and empowered to find ways to elevate the spirits of clients and their families.
Our caregivers also practice Comfort Keepers' signature Interactive Caregiving™ system. With Interactive Caregiving, we get to know our clients on a personal level, learning about likes, dislikes and even past events in their life. This helps us integrate activities that simulate mental or physical activity. Our clients and caregivers develop a relationship, and often listen to music together from the senior's favorite era, read an old favorite book or even do memory exercises like looking through family photos or discussing current events.
We can provide:
Individualized care plans that focus on physical and non-physical care needs and goals
Activities that bring joy, provide mental stimulation and encourage physical and emotional wellbeing. Designed to consider your loved one's interests and capabilities, these activities are built into the plan of care to improve quality of life and physical health
Support for physician-prescribed nutrition and exercise programs, companionship, respite care and other needs
Referral to medical professionals, support groups and resources for family caregivers
How We Offer Memory in the Home
Memory care needs someone who is experienced in dealing with such issues. It is important to be flexible and patient when caring for a loved one with dementia. The Mayo Clinic provides tips for daily tasks and how to care for someone with dementia, including:
Reduce frustrations
Be flexible
Create a safe environment
Focus on individualized care
Comfort Keepers Home Care can help you and your loved one work through these recommendations to create the best possible environment and dementia care plan.
Talk to Us in Sioux Falls, SD
We are eager to lighten your load. Our caregivers are trained to provide Alzheimer's care and dementia care that supports opportunities for meaningful engagement, builds and nurtures authentic, caring relationships, and implements a care plan that evolves with the senior's needs. For additional information and resources, visit the Comfort Keepers Info Center section on Alzheimer's & Dementia Care.