Welcome to Comfort Keepers Home Care in Greater Ann Arbor, MI
At Comfort Keepers Home Care, we aim to keep our clients safe and independent in their homes in Ann Arbor, Dexter, Saline, and the surrounding area. Whether you or your aging loved one needs a helping hand with daily routines or more involved in home assisted living services, we are here to help. We encourage you to read below to learn more about our services, care plans, and how to get started!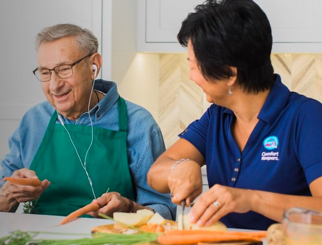 Our Services
We understand that for many people, remaining in their own homes is priceless. At Comfort Keepers Home Care, it's our goal to give you or your loved one the opportunity to maintain their independence for as long as possible. Our expert caregivers will provide assistance with everyday tasks to ensure our clients remain safe, happy, and healthy at home. Our services include:
Specialized Care Services
Personalized Care Plans
Together, we will design a personalized care plan that best fits you or your loved one's needs, personality traits, and interests. Then, we match the client to a professional with similar likes and interests. Our service plans can also be just adjusted at any time to accommodate any health changes. Whatever it takes, we are committed to improving our clients' quality of life.
Schedule Your Free, No-Obligation Consultation
We are dedicated to maintaining the physical and mental well-being of your senior loved ones, no matter what the situation may be. To learn more about the home care services we provide in Ann Arbor, Dexter, Ypsilanti, and the surrounding areas of Michigan, please contact us online or call us today by clicking one of the buttons below. Our staff will be happy to schedule a free, no-obligation consultation with one of our care coordinators to get your family started.
Call Us Today! Fill Out Our Form
We are now offering virtual service consultations, caregiver interviews, and caregiver orientations.