Palliative Care Services
Serving Johns Creek, North Fulton County and Gwinnett County
What is Palliative Care?
Palliative Care (pronounced pal-lee-uh-tiv) is defined as "specialized medical care for people with serious illnesses. It is focused on providing patients with relief from the symptoms, pain, and stress of a serious illness—whatever the diagnosis. The goal is to improve quality of life for both the patient and the family.
Palliative care is provided by a team of doctors, nurses, and other specialists who work together with a patient's other doctors to provide an extra layer of support. It is appropriate at any age and at any stage in a serious illness and can be provided along with curative treatment." (Source: Center to Advance Palliative Care)
Palliative care is a medical specialty for people with serious illness, it differs from hospice because it is available at any stage in a serious illness. Palliative care can be provided in conjunction with curative treatments. Palliative care provides relief from the pain, symptoms and stress caused by any life-limiting illnesses such as:
Cancer
Heart Disease
Liver Disease
Lung Disease
Kidney Disease
Advanced (late-stage) Dementia
ALS, Multiple Sclerosis and more
Palliative care is provided while supporting individual choices with the expressed goal of eliminating suffering and improving an individual's quality of life.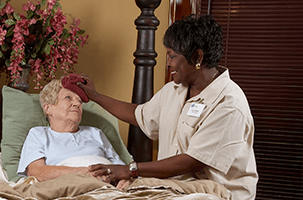 How Can a Caregiver Help?
Caregivers assist the palliative care providers and work with them to develop a plan of care that is consistent with the individual's preferences and needs. Once a plan of care is in place our caregivers assist by providing personal care and assistance with other Activities of Daily Living (ADL's). These services include:
Bathing
Dressing
Grooming
Medication Reminders
Light Meal Preparation
Light Housekeeping and Laundry
Companionship
Transportation as needed for doctor's appointments
Grocery Shopping
Other Activities as directed by the plan of care to assist the individual in living at home independently safely and securely.
Comfort Keepers of Johns Creek's core mission is to help seniors age in-place independently, however, we provide caregiving services for individuals of all ages 24-Hours a day. We also provide temporary (or respite) caregivers to families and other providers so that they can take a break occasionally. To find out more about how we can help you and your loved one call us at (770) 233-7494 or contact us online.