Contact an office in your area »
February 9, 2015
Older Adults and Perceptions of Food Safety
Good nutrition is one of the best ways older adults can help themselves stay healthy, active, and independent in their own homes as they age. However, if seniors are not practicing safe food handling and preparation techniques, they might find themselves in the hospital with a foodborne illness. While it is true that younger people may display similar habits, the consequences for seniors can be far more devastating.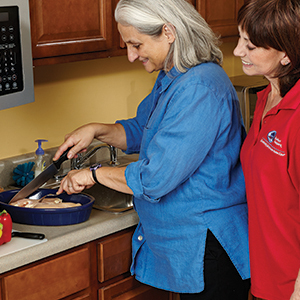 Older adults are more susceptible to foodborne illnesses than other populations for various reasons that can make it more difficult for them to fight off infections: decline in immune system functioning, numerous surgeries, changes to the digestive tract, malnutrition, lack of exercise, antibiotic overuse, and reduced effectiveness of antibiotics due to physical changes. Because their risk of foodborne illness is so great, it is important to understand seniors' perceptions of food safety to identify when education may be useful to help them remain healthy participants in their communities.
Very often the topic of food safety does not come up during doctor's visits because medical professionals are focusing on more glaring medical issues. Family and friends may not consider that food safety practices could be an issue either. However, a number of studies have found that many older adults engage in risky food-handling practices. For example, in these studies, those who lived or ate alone were less likely to wash their hands before eating or preparing a meal, and nearly a quarter of the seniors surveyed would eat meals that had been sitting unrefrigerated for lengthy periods of time, even overnight.
Educational and income levels did not prevent this from happening either. In fact, seniors with some college or a college degree and greater income levels engaged in these practices more often than those who did not have a college degree and earned less money. It is important, then, not to make assumptions about which seniors might benefit from food safety education.
In general, it may be in the best interest of seniors if caregivers, family, and medical professionals talk to them about their food handling and preparation practices to determine if there may be a risk, and then follow that discussion with food safety education if necessary. As part of our services, Comfort Keepers® can help seniors with safe food preparation and handling practices. Ensuring that seniors are handling food safely can enable them to stay healthy and live independently in their own homes for longer. Contact your local Comfort Keepers office to learn more.
References
Anderson, A. L., Verrill, L. A., & Sahyoun, N. R. (2011). Food Safety Perceptions and Practices of Older Adults. Public Health Reports, 126(2), 220–227.
Roseman, M. G. (2007). Food Safety Perceptions and Behaviors of Participants in Congregate-Meal and Home-Delivered-Meal Programs. (cover story). Journal Of Environmental Health, 70(2), 13.
---

Contact an office in your area »
Sign up to receive helpful info right to your inbox.
We understand choosing an in-home care provider can be a difficult decision, and we want to make your journey as easy as possible. We're here to support you by providing helpful senior care tips and information on in-home care and senior health and wellbeing topics.