Contact an office in your area »
March 11, 2015
Health Impacts of Stressful Living
Seniors who are trying to stay active and healthy can benefit from reducing stress in their lives. Stress can have negative health impacts on people of any age, but as people get older the effect stress has on the system can be more severe and cause quite a few more problems than it does for younger people.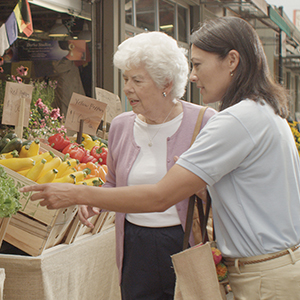 Years of stress can take its toll by increasing the risk that the senior will develop a chronic disease, such as hypertension, which can culminate in heart disease; cancer; or even diabetes. Stress can cause the system to enter a flight-or-fight mode, which can cause weight gain and affect how the body processes glucose. These are both risk factors for diabetes. Prolonged stress is also associated with higher rates of disability, mobility impairment, and problems with cognition. Stress not only makes older adults more vulnerable to chronic disease but also reduces their ability to fight off infections or recover from illness.
While the cause and effect relationship between stress and illness is a topic still being explored, researchers believe part of the reason stress has such an impact on health is due to people's reaction to it. Stress can affect sleep patterns, and people under stress tend to exercise less, eat poorly, smoke more, and fail to follow the recommendations of medical professionals. The behavioral factor may also partly explain why stress can have strong health impacts for some individuals but not for others.
For those seniors who are seeking ways to reduce stress in their lives, there are a number of strategies they can try. For starters, ensuring they take care of themselves by eating a balanced, nutritious diet; not smoking; and minimizing caffeine and alcohol intake can help them to be physically prepared for dealing with stress. Exercise and yoga are also good outlets for releasing accumulated stress as are meditation and breathing exercises. Being socially active and talking with others about their lives can help seniors put their problems into perspective so that those problems are more manageable. Lastly, there are a lot of benefits to seeking the help of a professional if stress is an overwhelming challenge for an individual. Psychologists, social workers, and other health care workers can offer tailored guidance and direct the senior to services, such as transportation help, food assistance, and senior programs, that can alleviate sources of stress.
Hiring an in-home caregiver can also help reduce sources of stress for seniors who are having difficulty managing on their own. Professional caregivers can help the older adult with daily activities, such as meal preparation or keeping the house clean; help with mobility and transportation issues; and help the senior avoid loneliness and isolation through companionship and by providing transportation to social activities. For more information on how in-home care can help seniors, contact your nearest Comfort Keepers® office.
References
Huffington Post. (March 12, 2013). Stress and aging: 5 ways stress affects post-50s (and how to create a less stressful lifestyle). Huff Post, Post 50. Retrieved from http://www.huffingtonpost.com/2013/03/12/stress-and-aging-10-ways-_n_2805468.html.
Nilsen, C., Andel, R., Fors, S., Meinow, B., Mattsson, A. D., & Kåreholt, I. (2014). Associations between work-related stress in late midlife, educational attainment, and serious health problems in old age: a longitudinal study with over 20 years of follow-up. BMC Public Health, 14(1), 878. Retrieved from http://www.biomedcentral.com/1471-2458/14/878.
Potts, J. (October 10, 2007). Stress contributes to range of chronic diseases, Carnegie Mellon psychologist says. Carnegie Mellon Headlines. Retrieved from http://www.cmu.edu/news/archive/2007/October/oct10_cohenjama.shtml.
University of Rochester. (n.d.). Stress and older adults. Health Encyclopedia. Retrieved from http://www.urmc.rochester.edu/encyclopedia/content.aspx?ContentTypeID=1&ContentID=4530.
---

Contact an office in your area »
Sign up to receive helpful info right to your inbox.
We understand choosing an in-home care provider can be a difficult decision, and we want to make your journey as easy as possible. We're here to support you by providing helpful senior care tips and information on in-home care and senior health and wellbeing topics.