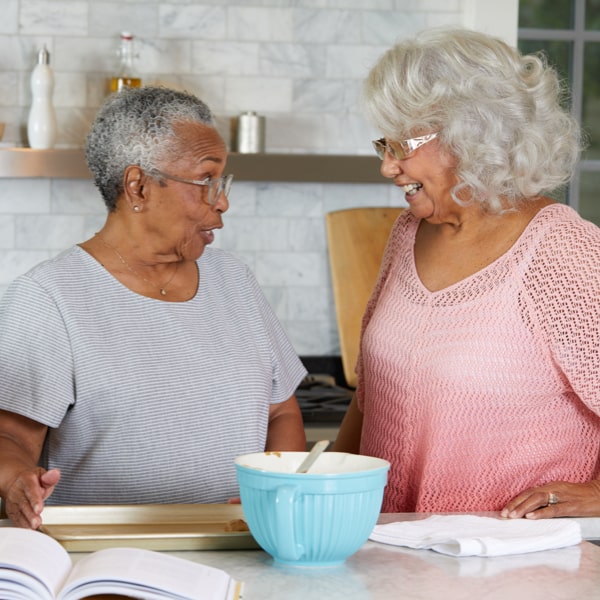 In Home Senior Care Services in Sioux Falls
Comfort Keepers Home Care provides uplifting in home senior care services in Sioux Falls, SD and surrounding areas
Do you or an elderly loved one wish to stay in your own home in the Sioux Falls area? Would you prefer to live at home over a senior center or care facility? Our caregivers provide in home care in the comfort and safety of home. We know how important it is for many seniors to continue living in their homes, and we are proud to make that possible. Studies show that most seniors find joy and meaning when they can live in the home they love as they age and remain close to their community. Comfort Keepers Home Care provides in home senior care services that can help the elderly remain independent in their own homes. Call us to learn more at (605) 638-9791.
Customized Care
Here at Comfort Keepers, we believe that an in home care plan should be customized to each individual's needs, goals, and living situation. No two seniors are alike. The best care improves quality of life by focusing on the care activities that increase engagement, improve physical and mental wellness, and bring happiness, purpose and hope.
Our services focus on physical needs and total wellbeing. We believe that everyone should experience the best of life, no matter their age or the level of care that is needed. At Comfort Keepers Home Care, we strive to elevate the spirits of our clients and their families every day.
Our in home senior care services include:
Companion Care to preserve mental health and social wellbeing
Personal Care to maintain activities of daily living, such as dressing and grooming
Safety Care, including personal emergency response systems and medication safety
Senior Transportation to safely provide rides for seniors to and from appointments or activities
Technology support to help keep seniors in touch with family and friends
Respite care to provide temporary relief for family and other primary caregivers
Private duty nursing with Registered Nurses (RNs) or Licensed Practical Nurses (LPNs) to offer advanced care
Specialized care services, including Alzheimer's and dementia care, 24-hour care, and post-hospital care
Caring is Key with In Home Senior Care Services
Every individual we serve is important and unique. We provide the best possible in home senior care services tailored to the individual needs of each client we serve. Our caregivers are thoroughly screened, empowered to provide the highest quality of care and highly trained. In addition, our caregivers are screened for empathy and dedicated to bringing joy.
Peace of Mind for Loved Ones in Sioux Falls, SD
Comfort Keepers Home Care brings peace of mind to families and helps seniors to maintain the lifestyle and independence they deserve. We utilize technology to help families stay connected and updated on the health and wellbeing of their loved one. Our caregivers are also available to provide respite care to family caregivers.
We strive to provide the best quality care to exceed expectations and support families. We understand that there is peace of mind knowing your loved one is receiving the best care from experienced caregivers. We are able to provide a variety of technology solutions for real time updates, transparency, and communication with your loved one's care team – all from the convenience of your phone or laptop.
Individualized In Home Senior Care Services
Our uplifting in home senior care services begin with an in-home visit. Our professionals complete a comprehensive assessment and develop a care plan that is customized for each client. We'll be sure to take plenty of time to understand your situation.
Some seniors need only occasional help with household chores. For others, 24-hour home care is desired. Whatever the case, we will be happy to meet with you and your loved one to create an individualized plan of care for services.
We will also complete a free Home Safety Assessment and offer recommendations to improve the safety of the home. Ready to learn more? Contact our office serving Sioux Falls, SD and surrounding communities today.