Compassionate In Home Care Services from Local Caregivers In Grand Junction, CO
Comfort Keepers offers customized quality in home care services for seniors in Grand Junction, Fruita, Palisade, the Redlands, and nearby cities
As seniors age, problems you never knew were there, or problems that may have always been there may start to pop up. When this happens, it may prevent your loved one from living life to the fullest, but there is a way to improve their independence right at home.
At Comfort Keepers, we provide personalized, flexible in home care services that do not just prolong independent living but elevate life quality too. Our Interactive Caregiving approach turns regular caregiving into opportunities for bonding, engaging in senior-friendly activities, and interacting with the community around. Contact us today at (970) 232-2165 to learn more.
How Comfort Keepers Can Help
Comfort Keepers' portfolio includes a range of in home care services carefully developed to address the varying needs of local seniors. What is important to keep in mind that all services can be adjusted to fit your loved one's needs and lifestyle, so you can rest assured that they will get help with all those activities they find hard to do on their own.
---
Our In Home Care Services
Comfort Keepers can assist your loved ones with everyday tasks. Depending on their needs we can provide care for just a few hours a week or full-time care. Our services include:
Our caregivers are dedicated to building strong relationships with the clients in their care. Our care services include assisting with daily living, participating in their favorite activities, going to their favorite parks or restaurants, and more.
---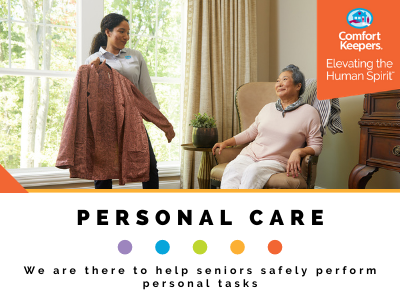 Our experienced caregivers offer respectful assistance with intimate needs like bathing, dressing, and grooming. Personal care also includes fall prevention, mobility assistance, transferring, toileting and incontinence care, and meal preparation.
---
Safety Care
We ensure seniors stay safe at home, even if they are alone.
---
Senior Transportation
Our care services include transportation assistance for seniors who want to go out and about. Common places our caregivers take their clients include parks, doctors' offices, restaurants, shopping centers, and other favorite places of theirs.
---
Seniors and Technology
If your loved one is struggling with social isolation, our caregivers will make sure they remain connected to friends and family through video calls, social media, and texting.
---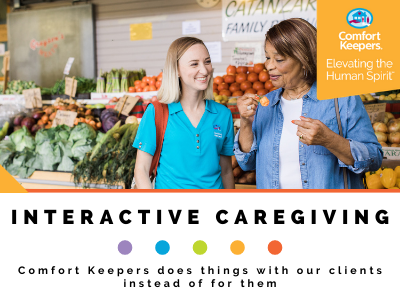 Interactive Caregiving
Our caregivers are there to uplift seniors' lives and ensure they have the best quality of care for their entire health with our trademark holistic approach to elder care.
---
Contact Us To Get Your Free Home Care Consultation
To learn more about us, our in home care services, and how our caregivers can make a difference for your family, please call our Grand Junction office today at (970) 232-2165. We are here for you and your loved ones!