Alzheimer's and Dementia Care in Williamsport, PA &  the Surrounding Area
We provide skilled Alzheimer's and dementia care for your loved one in Williamsport, PA.
Dementia and Alzheimer's are frightening diseases which can not only rob you of your future but also your past. While there is currently no cure for Alzheimer's, there are steps that you can take to predict and prepare for dementia and Alzheimer's. With proper Alzheimer's and dementia care, you can plan for the onset of dementia and make the most of your time with family and other loved ones.
How Can You Identify Dementia & Alzheimer's?
Dementia is a serious decline in mental abilities, such as memory and thinking, that impacts a person's abilities to perform daily living tasks. The symptoms of dementia can differ from case to case, but in order to be labeled as dementia at least two main mental functions must be impaired. These core functions include:
Memory
Communication
Ability to focus
Judgment and reasoning
Visual discernment
No singular test can determine if you have dementia. A medical professional diagnoses dementia, including Alzheimer's, based on your medical history, laboratory tests, physical examinations, and noticeable changes in your everyday thinking and behaviors. In many cases, you may be directed to see a neurologist or other specialist to receive a final diagnosis. Many seniors do not even recognize their own mental decline and discussing "senior moments" with a doctor can be embarrassing. If you or a loved one experience noticeable changes in any of the core mental functions, meet with your doctor immediately to discuss options.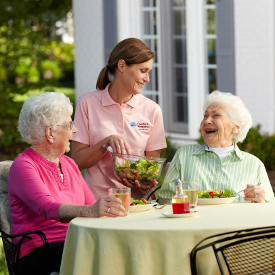 What is Dementia and Alzheimer's Disease Care?
In general, dementia is a decline in mental ability, such as memory loss or an inability to complete familiar tasks, serious enough to interfere with a person's daily life. Alzheimer's disease is the most common type of dementia, accounting for 50 to 80 percent of dementia cases. Our care services help people with these symptoms by focusing on their remaining abilities and strengths, while assisting with tasks that have become difficult for the client to perform.
What Treatments Exist?
Alzheimer's is the most common type of dementia, and there is currently no known cure to this form of the disease. There are, however, multiple other forms of dementia, some of which are even curable such as dementia resulting from thyroid problems or vitamin deficiencies. In many cases the same drugs used to treat other forms of dementia are used to help with the symptoms of Alzheimer's; there are also non medical treatments to help with dementia care and Alzheimer's care.
How Can Dementia & Alzheimer's Care Help?
No one wants to deal with dementia on their own. Luckily Comfort Keepers® offers non medical options for Alzheimer's and dementia care that are designed to help you slow the progression of mental decline and ensure your comfort. Caregivers can help you engage in physical exercises, such as daily walks or coordination activities, which encourage you to focus and increase the number of neural connections in your brain. Our care specialists can also help improve your mental health through memory exercises and other activities designed to improve cognition and focus.
Aside from these memory care services, caregivers can also help you with daily activities as they become more difficult. Alzheimer's and dementia care can help prevent wandering and can adapt your home to decrease the risk of falls or other accidents. Our caregivers are also specially trained to help with bathing & grooming, meal preparation, light housekeeping, and transportation to and from appointments.
To learn more about dementia and Alzheimer's call our office today. Our team of professional caregivers would be happy to discuss dementia and how our services can help you. 
Give us a call at (570) 281-8084 to learn more!