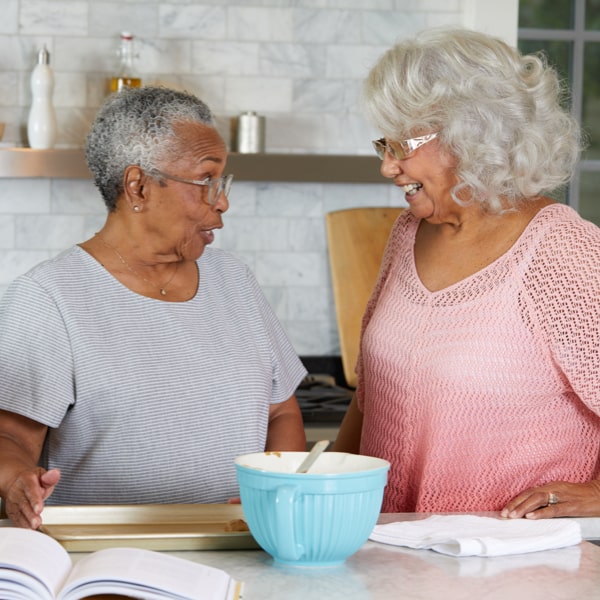 At Home Senior Care from Comfort Keepers in Los Lunas, NM
Our at home senior care services exemplify a standard of excellence in care for seniors
The search for a caring and professional at home senior care provider for your loved one can lead to many emotions and doubts for family members. Fortunately, our at home senior care plans in Los Lunas, NM are available and focus on a variety of services that can be arranged to accommodate the unique needs of you and your senior loved one. 
It's important for families to know that they are not alone in this decision-making process. Our care coordinators arrange free in-home consultations with seniors and their families to find the best plan of care for aging adults. The advantages afforded to families and their loved ones via our services would not be as effective without the contribution and dedication of our caregivers who connect with seniors emotionally and care for their daily needs. Their training and experience motivate your loved one to enjoy life to the fullest.
At home senior care services from Comfort Keepers in Los Lunas:
Interactive Caregiving
Our trademark plan that encourages seniors to remain active mentally, socially, and physically to keep them motivated and encourage healthy living.
 At Home Care
24-hour care provisions in the home of your loved one.
 Respite Care
We are dedicated to taking care of your senior loved one when you need or are required to take time off from being a caregiver for your loved one.
 Transportation Services
Our eyesight and motor skills are just some of the many aspects of our physical health that start to worsen as we get older. Unless elderly people have a caregiver around them all the time to provide assistance, they are left with no way to get around their own home or town.

At Comfort Keepers, we provide caregivers that delight in taking your elderly loved ones to their doctor's appointments, to run errands in town or buy some
 Transitioning Home
The transfer from a medical facility or nursing home presents a set of challenges that can be hard for loved ones and their family. We are here to assist in that transition to make independent living more of a reality for seniors.
 End of Life Care
The final stages of life can take an emotional, mental, and physical toll on the family, as well as the senior. This service is available to help make the most of the time left with them, to make it more memorable.
 Elderly Nutrition
In our advanced years, nutrition becomes even more important as it ensures that we remain at our best physically and mentally. If you need a special diet for your condition, our Comfort Keepers work with your doctor to create one and make sure that you stick to it. We can also involve your senior loved one in the preparation.
We are here to help
Are these services among ones that your family could use at the time or in the future? Contact us online or call (505) 225-3256 today to find out more about our at home senior care services.