Interactive Caregiving at Comfort Keepers in Los Lunas, NM
How Interactive Caregiving Can Make A Difference In Your Loved One's Life In Los Lunas, Valencia County, Socorro County, and Surrounding Areas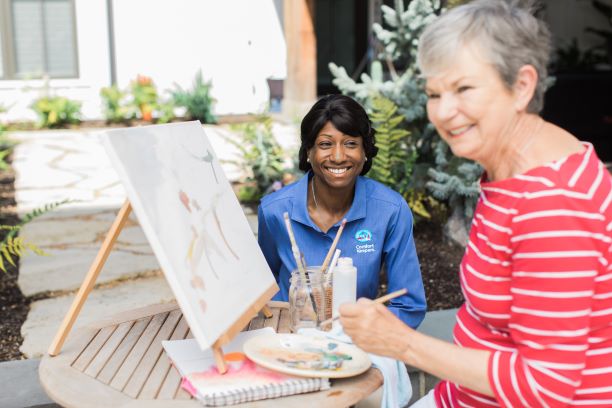 Comfort Keepers has been the nation's leading care provider for years now. One of the main features that sets us apart from other care agencies is that we employ a personalized, 100% holistic approach to care. What this means is that we emphasize the physical, mental, emotional, and social needs of our clients, making sure to improve their quality of life on all these levels and help them lead their best life in their senior years.
Our Approach to Caregiving
We can make such a difference due to our unique caregiving philosophy is known as Interactive Caregiving. The basis of this approach to senior care is that seniors should be active participants in their own care instead of passive care recipients.
We know that it can be easy to get caught up in the physical tasks of caring for a senior - cleaning their home, doing their laundry, preparing their meals, and more. While all these tasks are important, it is perhaps even more important for the seniors to feel in control of their life and that they are valued and needed in their homes. Interactive Caregiving provides them with this sense of accomplishment and boosts their confidence and independence as they engage in daily activities with their caregiver and make decisions regarding their care on their own.
Interactive Caregiving elevates the quality of life for seniors through:
Mental activity, keeping the brain active and sharp for longer, promoting vitality and independence, and boosting mental health.
Physical activity, keeping the body stimulated, improving the symptoms of chronic conditions, and preventing the development of additional health problems.
Proper diet, nourishing the body from within, and providing enough energy needed for the day.
Home safety, minimizing the risk of home accidents and falls.
The Interactive Caregiving model can be employed at any time. Basically, whenever the caregiver needs to do something, they can ask the senior to join them. Together, a caregiver and senior can go out for daily walks, go shopping and run errands, prepare meals and eat, solve puzzles and play games, talk and share memories, look at photo albums, clean the home, and much, much more.
By providing your loved ones with an opportunity to engage in their own care as much as they can, you are making sure that they are enjoying not just care of the highest quality but also an unparalleled caregiving experience.
---
We Are Here To Help
For more information about our care programs and how we can be of service to your family, please give us a call today at (505) 225-3256. We are here for you!