Companion services at Comfort Keepers in Los Lunas and Surrounding Areas
Our trained caregivers deliver expert companion services for Los Lunas, all East Mountain communities, SE Albuquerque, Valencia & Socorro Counties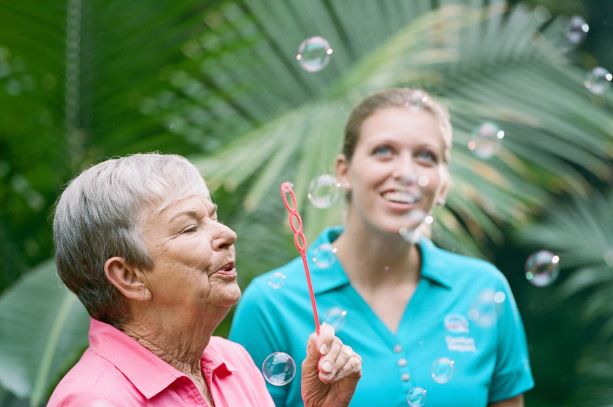 One of the most important things for seniors is being able to remain in the comfort of their beloved homes throughout their golden years. At Comfort Keepers of Los Lunas, our caregiving experts help aging adults to get the support they need to make this wish a reality.
Our ultimate goal is to improve the quality of life of those we serve and truly make a difference by ensuring every care visit counts. To that effect, we deliver a customized mix of companion services, personal care, and in-home assistance. Contact us by calling (505) 515-0001
Call Us to learn more about our variety of services.
Companion Care Near Me: Trustworthy, local caregivers
If your aging loved one struggles with physical limitations, mobility issues, or has a chronic condition, you are probably very concerned about their safety and well-being as you cannot be around all the time to keep an eye. By working with our companion care near me agency, you can finally find some peace of mind knowing Mom or Dad is well looked after when you are away.
Everyone in our local caregiving team is a trained professional, background, and reference screened before joining Comfort Keepers of Los Lunas. What is more, all our caregivers share our caregiving mission and go above and beyond to provide the top-quality care we are well-known for across the nation.
Expert care when you need it most
Our independently owned and operated agency can manage any level of care your loved one might require, even if you want to schedule 24/7 coverage. A referred Comfort Keeper can assist with a variety of daily tasks, from light homemaking chores, laundry, and meal preparation to running errands and providing transportation. We are also there to offer emotional support and engage your loved one in favorite activities during every visit.
In addition to this, our companion care experts cater to seniors with specialized needs too. We provide Alzheimer's & dementia care, end-of-life care, post-hospital care, and more.
Contact Comfort Keepers of Los Lunas today
Get in touch with our local office today by dialing (505) 515-0001 to learn more about our companion care services and what we can do to help your Mom or Dad in Los Lunas, NM. We will be more than happy to answer all your questions and schedule your free care consultation to get you started.
Not Sure What Care You Need? Click Here!
Frequently Asked Questions
What types of services do your caregivers provide?
A variety of services, such as companion care, personal care, light housekeeping, meal preparation, transportation, and specialist care for ailments like dementia and Alzheimer's, are provided by our caregivers.
How can I arrange for my loved one to get a care consultation?
A care consultation is simple to schedule. To discuss your loved one's requirements, just click the "Schedule Now" option on our website or give us a call at (505) 515-0001. We will then set up a convenient time to talk.
Are your caregivers trained and screened?
Yes, before joining Comfort Keepers of Los Lunas, each caregiver goes through extensive training and is subject to a background check and reference check. In our team of caregivers, professionalism and safety come first.
Is it possible to alter the care plan to suit the unique requirements of my loved one?
Definitely, we are aware that each person has particular demands. Our objective is to design a personalized care plan based on your loved one's needs so they may get the assistance that is most important to them.
What areas do you serve in Los Lunas and the surrounding areas?
All East Mountain communities, Los Lunas, SE Albuquerque, Valencia, and Socorro Counties are served by our services. Please call us at (505) 515-0001 if you have any questions about whether we service your area.