24 Hour Home Care for Your Loved in Los Lunas, NM
Comfort Keepers provides personalized 24 hour home care to seniors in your area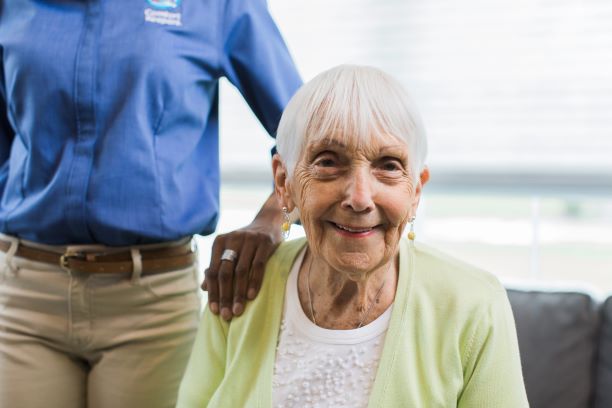 Caring for a loved one can be fairly easy if they only need occasional assistance with daily tasks. However, things get a lot more difficult when around-the-clock care is required.
Comfort Keepers 24 hour home care can help if your loved one needs non-stop care due to safety concerns, a medical condition, injury, or any other reason.
Instead of considering a local nursing home, you can help your parent or relative age in place — with the support of the best home care agency in Los Lunas.
Around-the-Clock Care Services
24 hour home care can be beneficial for a wide range of older adults. A lot of our clients live with chronic medical conditions that make it hard for them to perform routine activities like bathing, cooking, and cleaning. As these conditions progress, seniors are unable to take proper care of themselves and continue living an independent life at home. Comfort Keepers can provide personalized assistance 24/7 to ensure that those seniors have all the help they need to stay safe and comfortable.
24 hour home care is also the preferred care solution for seniors who are bedridden or are diagnosed with severe cognitive conditions like dementia. For these seniors, having a trustworthy caregiver around the clock is invaluable — not only does it keep them safe and prevent injury, but it also provides them with emotional support, companionship, and meaningful interaction.
However, even if your loved one doesn't have a medical condition or mobility issues, non-stop care can still be the right care solution for them. Many of our clients are very independent but enjoy the company of a devoted caregiver — someone who can help them with daily routines and be there as a companion.
Whatever your parent's situation, you can rest assured that our 24 hour home care services will meet all of their needs, both day and night. And we will also bring your family full peace of mind that your loved one is well cared for at all times and that someone is always there to assist in case of an emergency.
We are here to help
Reach out to our Los Lunas office today to learn more about us, our care solutions, and how we can be of help to your family. We are also here to schedule your free care consultation at any time that works for you!