Join Us In The Fight At The Walk To End Alzheimer's
Hope for a cure is always in full bloom
Join Comfort Keepers Home Care serving Cumberland, MD in the world's largest fundraiser for Alzheimer's care, research, and support. The Walk To End Alzheimer's is held annually to bring together those who are impacted by the disease. It is also meant to inspire everyone to fight back through awareness on disease prevention, treatment, and one day, a cure.
How To Participate
1. Register For Your Walk
You can Find and Register For Your Local Walk. Those that cannot meet at the walk location are free to walk in their own neighborhoods.
2. Start Fundraising & Spreading The Word
You can Find A Team and Make A Donation through this link- be sure to share it with others so they can donate to the cause too!
You can also increase Alzheimer's awareness by spreading the word and showing people these Facts About Alzheimer's.
Become A Part of the Promise Garden
Those that pre-register for the event will have the option of choosing a flower pin-wheel to carry and then make a part of our Promise Garden. The garden is a rainbow of significance against the solidarity and fight against Alzheimer's. Each color represents a person's connection to the disease.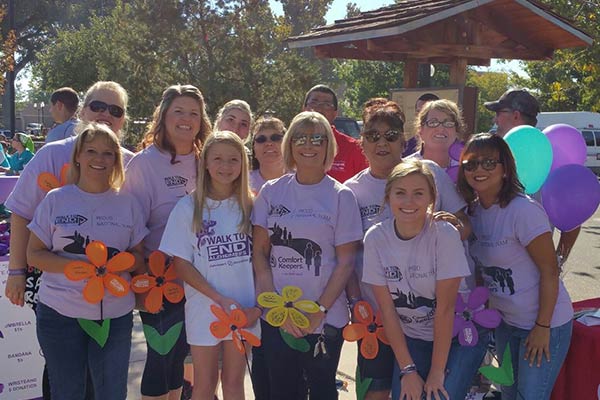 Blue:
Someone living with Alzheimer's or another dementia.
Purple:
An individual who has lost someone to the disease.
Yellow:
A person who is currently supporting or caring for someone living with Alzheimer's.
Orange:
A participant who supports the cause and the Association's vision of a world without Alzheimer's and other dementia.
We Can't Wait
Be sure to throw the date of your walk on your calendars and start spreading the word with us. Alzheimer's disease affects more than 6 million people in the United States alone. With your help, one day we can find a cure. Contact our agency to learn more!