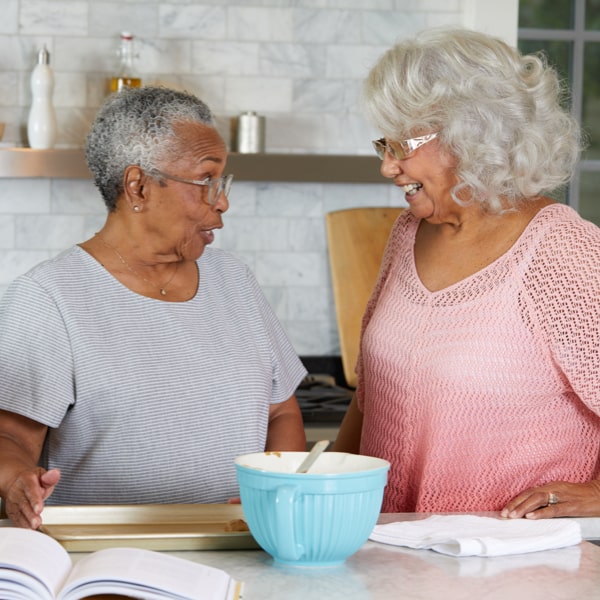 Personalized In Home Care Services By Comfort Keepers of Johns Creek, GA and Surrounding Areas
Our specialized in home care services can assist you and your loved ones in the Johns Creek, GA area
When we at Comfort Keepers started caring for older adults, we instantly knew that one-size-fits-all in home care services could never help us achieve our goal: to help older adults independently, safely, and comfortably stay at home for as long as possible. That is why we only provide personalized care, tailored to perfectly meet each client's needs, requests, and situation.
Numerous studies over the years have confirmed what we knew from the start – older adults want to age at home, not move to a nursing home or assisted living facility. With Comfort Keepers, aging at home and enjoying a high-quality life is easy.
Payment Options Including Medicaid
We provide many in home care services, including personal care, companionship, respite care, transportation, and a number of specialized care solutions like dementia care or end of life care. All our services are provided by qualified, trained caregivers with a passion for helping seniors.
Caring Is Key
At Comfort Keepers, we genuinely care for our clients. We know that each senior is unique and therefore requires a unique caregiving approach. When we start working with a new client, we first get to know them in order to understand how we can best be of help. We develop personalized care plans that can be adjusted further down the road and match clients with compatible caregivers. It is important to note that all our caregivers were screened and trained before they started providing in home care services.
Peace of Mind for Families
By helping your loved one age gracefully at home, we can give you peace of mind that they truly have all the help they need. Whether you live in another city or state or simply have a hectic schedule, you can rest assured that our services will meet and even exceed your expectations. In addition to being your partner in care, we provide real-time updates, full transparency, and open communication with your loved one's caregivers so you could always know how they are doing.
Individualized Care
Getting started with our in home care services is easy. It all starts with a free at-home consultation where our team performs a detailed assessment of your loved one's situation and develops a suitable plan and schedule of care. You can opt for part-time, full-time, or even non-stop care – we are always at your service! Once you are happy with the proposed plan, our team will proceed to match your loved one with the right caregiver. Before we start caring for your parent, we will also complete a complimentary home safety assessment and recommend measures that can significantly boost safety in their home.
Give us a call today to get started at (770) 233-7494! Families who wish to use Medicaid also have options as a way to pay for your loved one's home care as well. Contact us today to learn more about your options. We are here for you!