Comfort Keepers Alzheimer's & Dementia Care in Green Bay, WI and surrounding areas
Turn to Comfort Keepers® Green Bay, WI and Fox Cities for Quality Alzheimer's and Dementia Care
Caregiver.org calls Alzheimer's disease "the family disease" because watching a loved one slowly decline affects everyone. In fact, Alzheimer's disease is progressive, and the stress for family caregivers builds up over time as your loved one's mental and physical degeneration demands more assistance. If your goal is to help your loved one maintain his or her independence at home for as long as possible, Comfort Keepers® Green Bay and Fox Cities offers Alzheimer's and dementia care services to meet your changing needs.
The Right Level of Personal Care and Companionship
When a loved one is diagnosed with Alzheimer's disease or another form of dementia, many families make a commitment to keep him or her in the comfort and familiarity of home. However, dealing with the daily needs of your loved one is both physically and emotionally draining. Comfort Keepers Green Bay and Fox Cities is available to help you manage the many challenges you face with in-home dementia care, while helping to meet your loved one's needs with
bathing, grooming, dressing, and toileting,
preparing meals and eating assistance,
dusting, vacuuming, and other light housekeeping, and
running errands.
Contact us to learn more about dementia care from Comfort Keepers in Green Bay, WI today!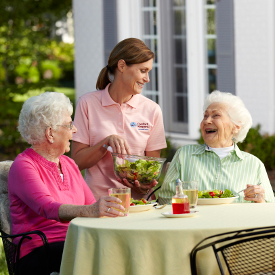 What is Dementia and Alzheimer's Disease Care?
In general, dementia is a decline in mental ability, such as memory loss or an inability to complete familiar tasks, serious enough to interfere with a person's daily life. Alzheimer's disease is the most common type of dementia, accounting for 50 to 80 percent of dementia cases. Our services help people with these symptoms by focusing on their remaining abilities and strengths, while assisting with tasks that have become difficult for the client to perform.
Comfort Keepers Green Bay and Fox Cities focuses on more than your loved one's physical needs. Our unique Interactive Caregiving approach integrates meaningful activities into your loved one's day to stimulate him or her physically, mentally, socially, and emotionally. An Interactive Caregiving plan is developed with your loved one's unique interests and abilities in mind. Activities that a Comfort Keeper® may engage in with your loved one include
taking a stroll around the neighborhood,
attending church,
working together in the garden or house,
discussing topics of interest,
singing or dancing along to music,
making puzzles or crafts, or
looking through photo albums and sharing memories.
Research suggests that patients with Alzheimer's disease or other forms of dementia experience mental and physical health benefits when they participate in activities that allow them to move around and socialize. The advantages include maintaining cognitive function, enhanced mobility, and a better overall quality of life.
You do not have to face the care of a loved one with dementia alone. Contact Comfort Keepers Green Bay and Fox Cities by email or phone at (920) 204-6068 to arrange a consultation.