Welcome to Comfort Keepers in Hickory, NC
Award-winning home care for seniors and families in Hickory and the surrounding area
You may already know that, since 2004, Comfort Keepers has been allowing seniors to live happy, healthy lives in the comfort of their own homes in Hickory, Lincolnton, Newton, and the surrounding areas of North Carolina. We provide seniors with high-quality, compassionate home care and safety technology solutions to help them maintain their freedom and live a better life. Our caregivers and clients live all over Lincoln, Catawba, Caldwell, and Alexander counties.
With over 225 RNs, LPNs, CNAs, in-home aides, and a dedicated administrative team with more than 40 years of industry experience, we know we can provide you with the consistent, quality home care that you need. Let us set up a virtual care assessment to keep you and your loved one safe: (828) 202-3009.

Our unique form of elderly care, which we call Interactive Caregiving, is based on the belief that meaningful connection with seniors is critical to keeping them active and interested in their care and in their lives. The elders we serve have a higher quality of life as a result of our engaged care.
It might be difficult to choose the best home care for a loved one who wants to maintain their independence. Our caregivers can assist you and your family in making crucial decisions. We recognize how vital it is for many seniors to be able to remain in their homes, which is why we are proud to provide a wide range of care services, ranging from short-term transitional care to longer-term palliative and end-of-life care. Our Comfort Keepers are even trained to care for seniors who have dementia or Alzheimer's illness.
We are here for you 24 hours a day, 7 days a week. Call us at (828) 202-3009.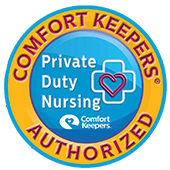 ---
UNSURE WHAT CARE YOU NEED? IT'S EASY!
If you're concerned about your senior loved one living alone, it's time to think about in home care. Begin by completing a brief survey to help you determine when it is appropriate to investigate care choices.
---
---