Summer Safety Tips For Seniors And Elderly
May 4, 2019 by Comfort Keepers of Rochelle Park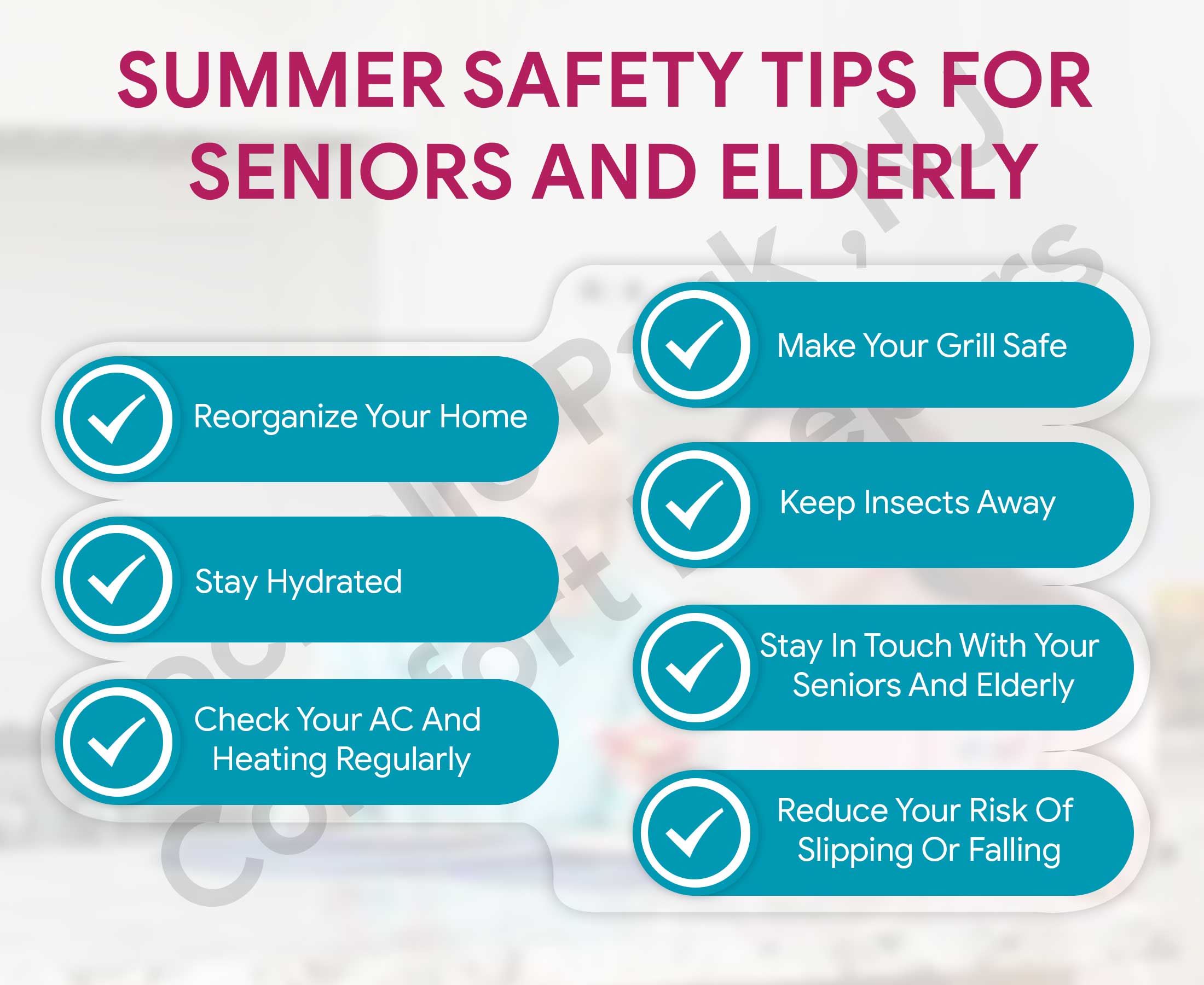 When it comes to aging at home, we must make sure to live comfortably - all year long. Even though we have stowed the snow spades and no longer have to truly anxious concerning icy sidewalks, the yearly summer comes with its challenges. Whether you're indoors or enjoying outdoor activities, here are some tips to take full advantage of the summer season.
Many seniors and elderly living in Paramus, NJ are living alone, thus learning to Prevent Heat-Related Illness with summer safety tips or reaching out to Comfort Keepers would be an excellent idea for seniors.
Reorganize Your Home
Now that winter is finally over; it's time to put away your fleece jackets and take out your cotton t-shirts, store your snowblower and install your patio furniture. It is also an excellent time to undertake more ambitious projects, such as the decluttering of cupboards, the basement, and the garage, to allow seniors to find their things more easily.
Be careful when trying to reach an object at height or on the ground, especially if the elderly suffer from joint pain. Do not be afraid to ask for help if you need to access hard-to-reach places or store your belongings.
Stay Hydrated
The average recommendation seniors would be to drink up to 8 cups of water per day. If perhaps you plan to spend a lot of time in the sun, then you might want to aspire higher to steer clear of dehydration. You want to get one or two bottles of water that you can easily take along on your excursions, and also encourage yourself to truly finish it before you get home.
Do not just rely on your body when you are thirsty. One among so many predicaments of aging is that the seniors and elderly are actually less aware of their thirst. You want to be proactive as senior in staying hydrated, also be sure to drink sports drinks, water, or juices as soft drinks, coffee and particularly alcohol are not a good alternative for hydration.
Reduce Your Risk Of Slipping Or Falling
Did you know that 20 to 30 percent of seniors have one or more falls each year? Winters can lead to cold-related challenges such as ice and snow. Summers, on the other hand, can make you sweat and wish to enjoy a cool shower to fight the heat.
Remember to install a grab bar in your shower or a non-slip mat in your bathtub to prevent falls. Also, when the summer sun settles for good, the corridors appear to seniors darker because of the contrast of brightness. Plug in Nightlights to ensure that your path from room to room is well lit. If you have hardwood floors, be creative and use fabric paint to make your socks and slippers non-slip.
Check Your AC And Heating Regularly
Check your AC, ventilation as well as the heating system always. As seniors are at increased risk for health problems due to warm weather, it's essential to avoid AC failures whenever possible. If you have central air conditioning at home, be sure to replace the filter every season so that the air in your home is not full of dust and allergens.
The Heating, Refrigeration and Air Conditioning Institute notes that servicing your filter can reduce the frequency of repairs and increase the life of HVAC systems! If you use an air conditioner, keep the surrounding area clean and dust-free so that air can circulate effectively.
Make Your Grill Safe
The clear skies, the gentle breezes and the laughs you share with your elderly loved ones are the perfect backdrops for a BBQ party. Before lighting your grill, be aware that it is very important to maintain it to reduce the risk of fire, especially if you use propane gas. Consider replacing the tank and be sure to inspect the valves and hoses each time you turn on the grill.
Use grill tools with long handles to reduce the risk of burns. If you are organizing a rally or building a bonfire to roast marshmallows with your grandchildren, seniors must consider the fire hazards that come with hot, dry weather. Approximately 8,000 forest fires occur out there each year, most of which occur during hot weather.
Keep Insects Away
Warmer temperatures = insects. Health experts identify mosquitoes, black flies and ticks as insects that bite most often during our summers. Ticks are a growing cause of Lyme disease in the world. Do a tick check when you go back indoors after gardening, hiking or walking through tall grass. If you find a tick on your body, remove it properly, or seniors should consult your doctor to reduce the risk of getting sick.
Seniors and the elderly should use an insect repellent spray when they can. If your skin is sensitive to these products, you may want to turn to protective clothing, lemongrass candles or a repellent to hang on clothing. Products such as aloe gel and calamine lotion can help relieve itching caused by insect bites. If you are prescribed an EpiPen injector for bee stings, be sure to keep it near you when you are outside. If you are concerned about insect bites or have an unexpected reaction, see your doctor as soon as possible.
Try To Predict What Effect Temperature Might Have On Your Health
Although summer is usually synonymous with sunny days and warm temperatures, which is likely not ideal for seniors, there can also be extreme weather conditions, such as thunderstorms, lightning, and strong winds. To assist you in diagraming the most excellent days for the great summer outings, you can check the Accuweather site and customize your very own local weather report or forecast settings always to know if temperatures will trigger allergies or an asthma attack.
Stay In Touch With Your Seniors And Elderly
High heat could be tough as well as life-threatening for seniors out there; therefore, communication is indeed a vital aspect of the safety of our elderly ones. If perhaps your elderly loved ones never live with you, you should stay in touch regularly, at least twice a day all through periods of high heat.
Conclusion
Prevent heat-related illness following these tips to give your elderly loved ones a safe and enjoyable summer. And if you need some help to look after your seniors and elderly relatives, Rochelle Park NJ Comfort Keepers is there for you!
We can help in achieving the mentioned points for seniors, and we provide seniors with quality care, which enables them to live healthier and happier lives at home.