The Comfort Keepers Spirit Award
Recipients of the Comfort Keepers Spirit Award in Northern Michigan
November 2019 Winner: Martha McDougall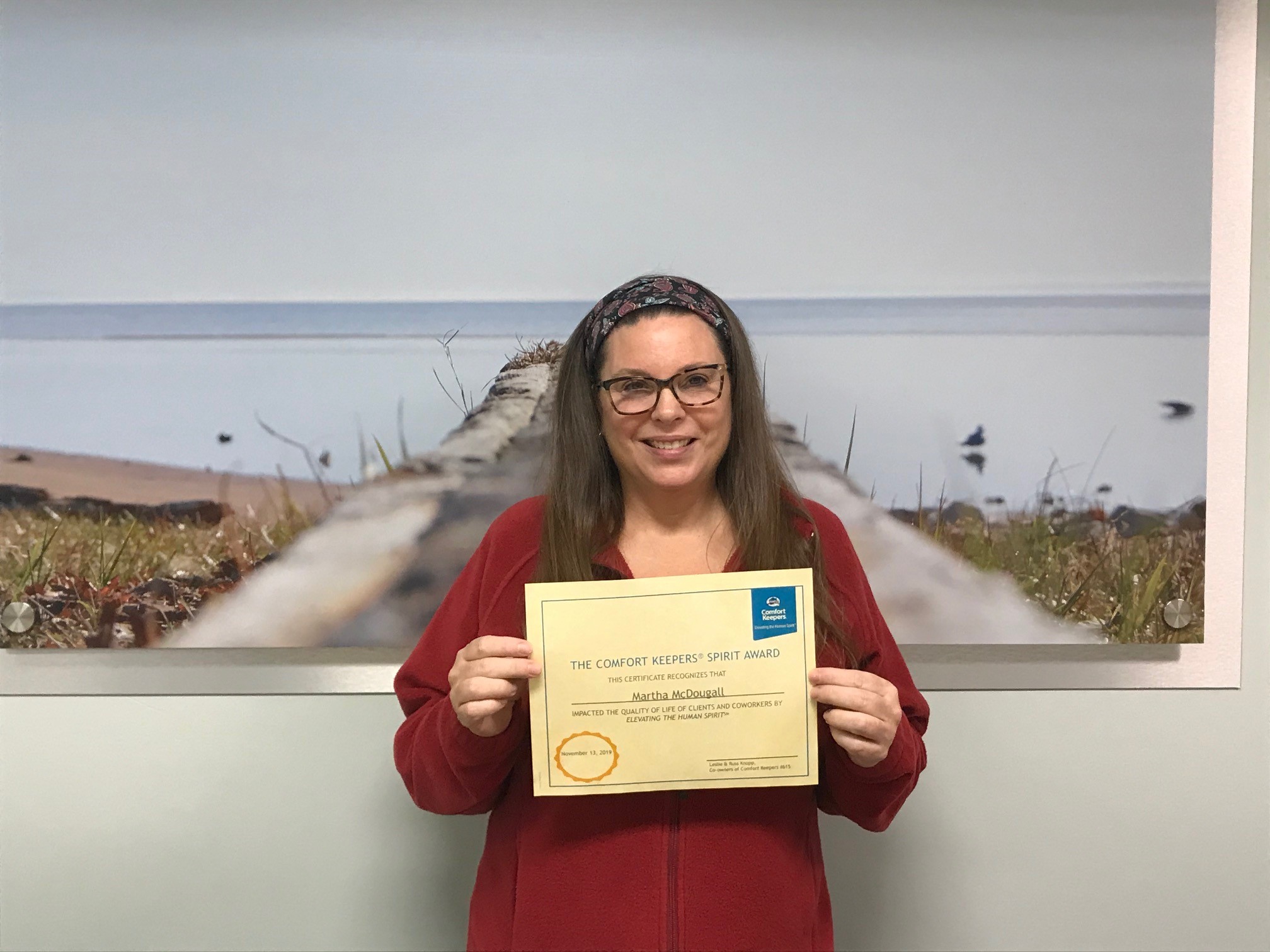 Congratulations Martha McDougall on being the first recipient of the new northern Michigan Comfort Keepers Spirit Award! The Spirit Award was created to recognize caregivers who elevate the spirits of their clients by bringing joy to every day moments. Martha was nominated by her clients Tom and Linda for recognizing Linda's interests and bringing a game with her for Linda to try. The game was really engaging for Linda and her husband was so impressed that he called the office and bought the game so she can play it anytime! Martha works hard with every client to transform routine activities into memorable moments and to nurture their unique qualities. Thank you, and congratulations, Martha!
Congratulations to Spirit Award Winner, Deb Reid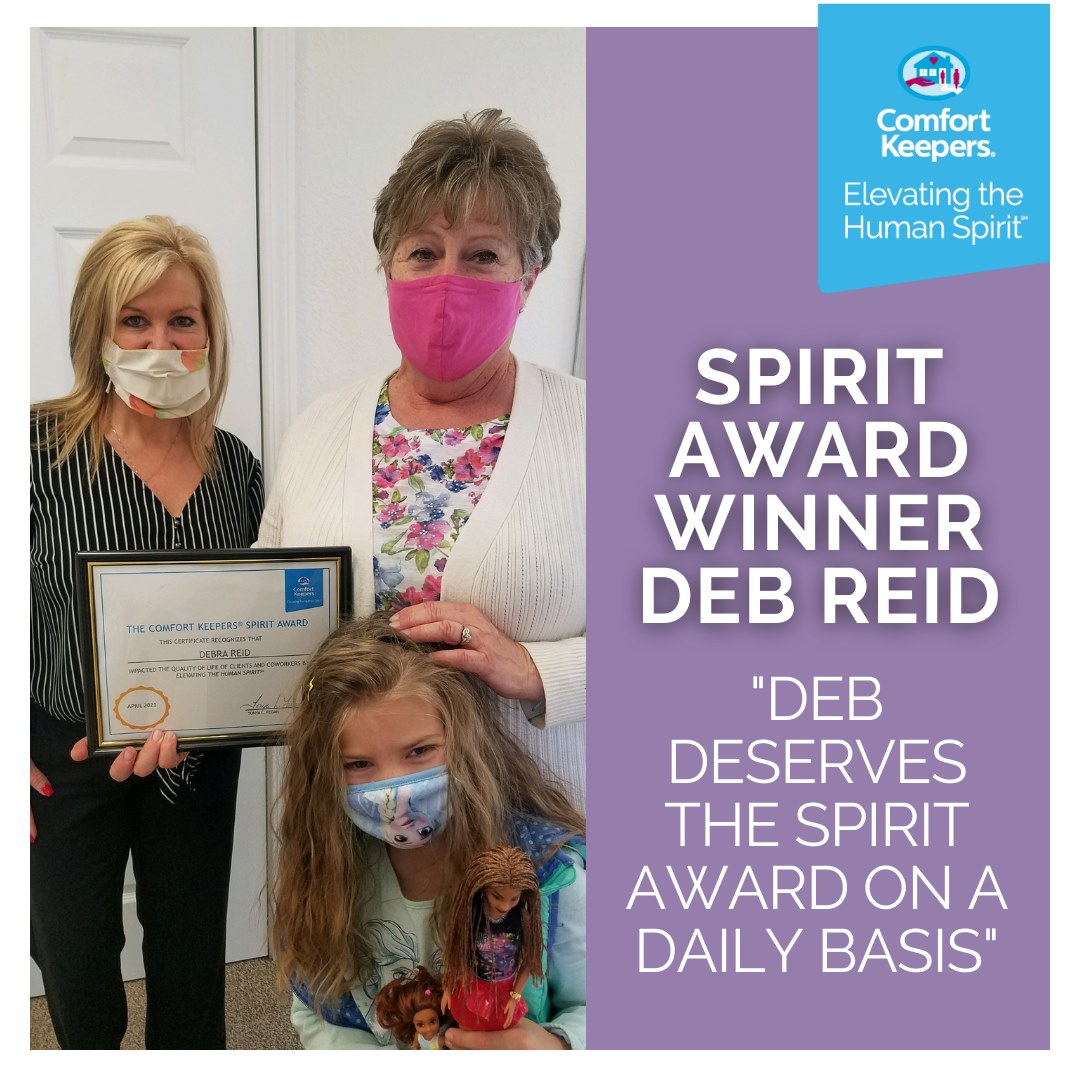 Congratulations, Deb Reid, on winning the Comfort Keepers Spirit Award! The Spirit Award was created to recognize caregivers who elevate the spirits of their clients by bringing joy to everyday moments. Deb deserves the Spirit Award on a daily basis. She is so kind and caring towards her clients. She goes above and beyond to treat them with respect and listen carefully to their wants and needs as well as their families'. She has helped several clients at the last minute. When I have a new client with Alzheimer's that I know will be resistant to care and family needing that special person to help with their loved one who has changed so much, my first thought is: they need Deb. I call Deb to see what she can do to help. She is truly an Angel to those she touches. Earlier this spring, she had been helping a couple in Harbor Springs with weekly respite for the husband and housekeeping. The wife was diagnosed with Alzheimer's and rapidly declined. It was taking a toll on the husband and their family. The daughter called one evening in tears. She said, "I thought we could handle Mom (who had just been placed on Hospice that day) through the night, but we can't. Is there any way someone can come and sit with Mom?" I called Deb, who was out to dinner with her husband and asked if there was any way she could help her clients. She said, "Tell them I can be there by 10:30 tonight, but I have to leave by 3 a.m. to get my granddaughter up for school." The family was so grateful when I called them to let them know that Deb would be there shortly. That client passed away a few days later with Comfort Keepers at her side, along with family and the help of Hospice. The family is still so grateful to this day. Thank you, and congratulations, Deb!
Congratulations to Spirit Award Winner, David Naniot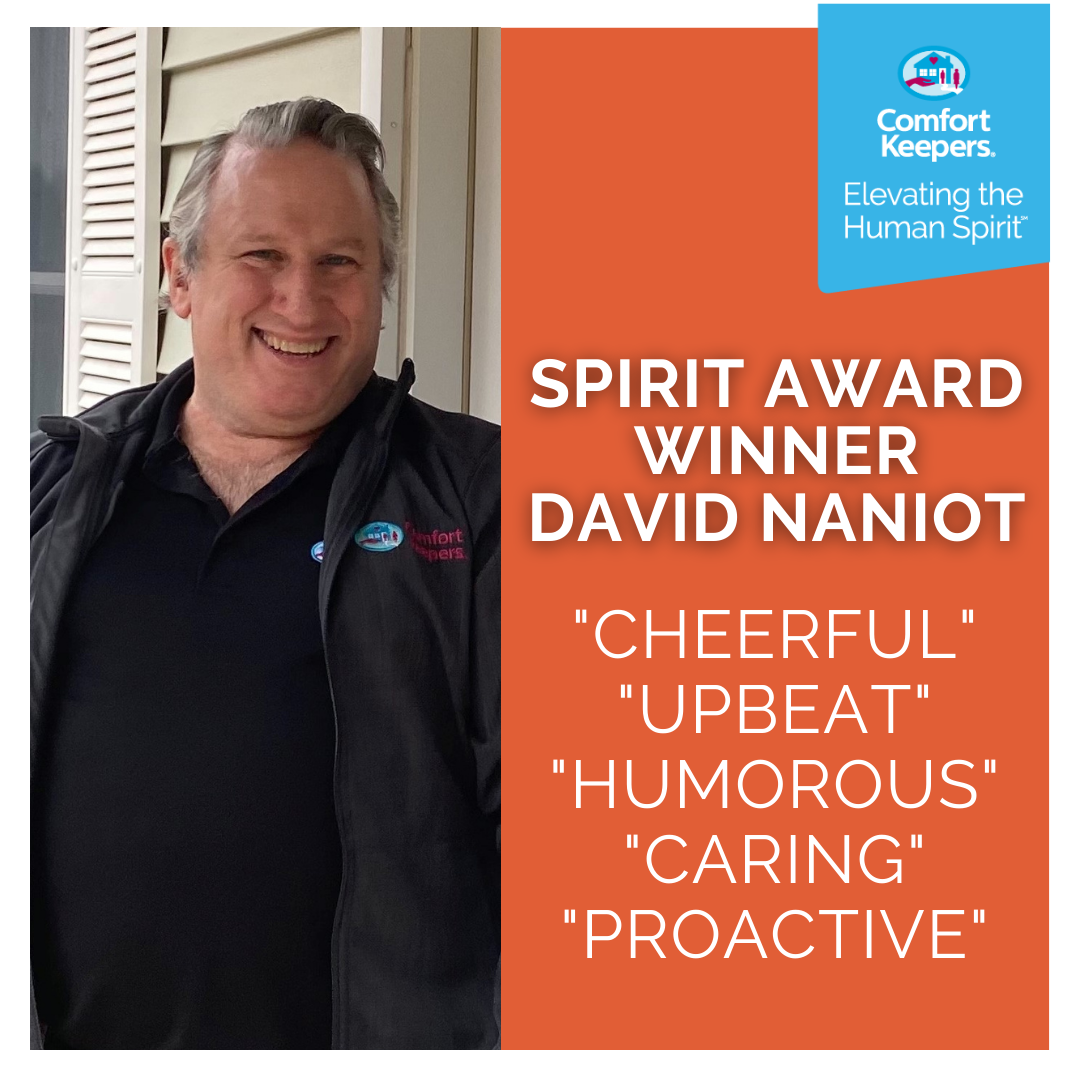 Congratulations to Spirit Award winner, David Naniot! In the words of the clients who nominated David... "Cheerful attitude, upbeat, humorous, caring, and proactive. David truly cared for Warren and brightened up his day. He never had to be told what to do - he just came in and did his job extremely well. David is a cheerful person. He often makes puns and jokes, so we are able to share laughter. He is inventive when something breaks. My husband and I are not computer savvy, so he often guides us through difficult problems with our computer. It always is a pleasure to have him caring for us. He is smart, capable, and never needs to be reminded of chores."
Congratulations to Spirit Award Winner, Ruth Bradburn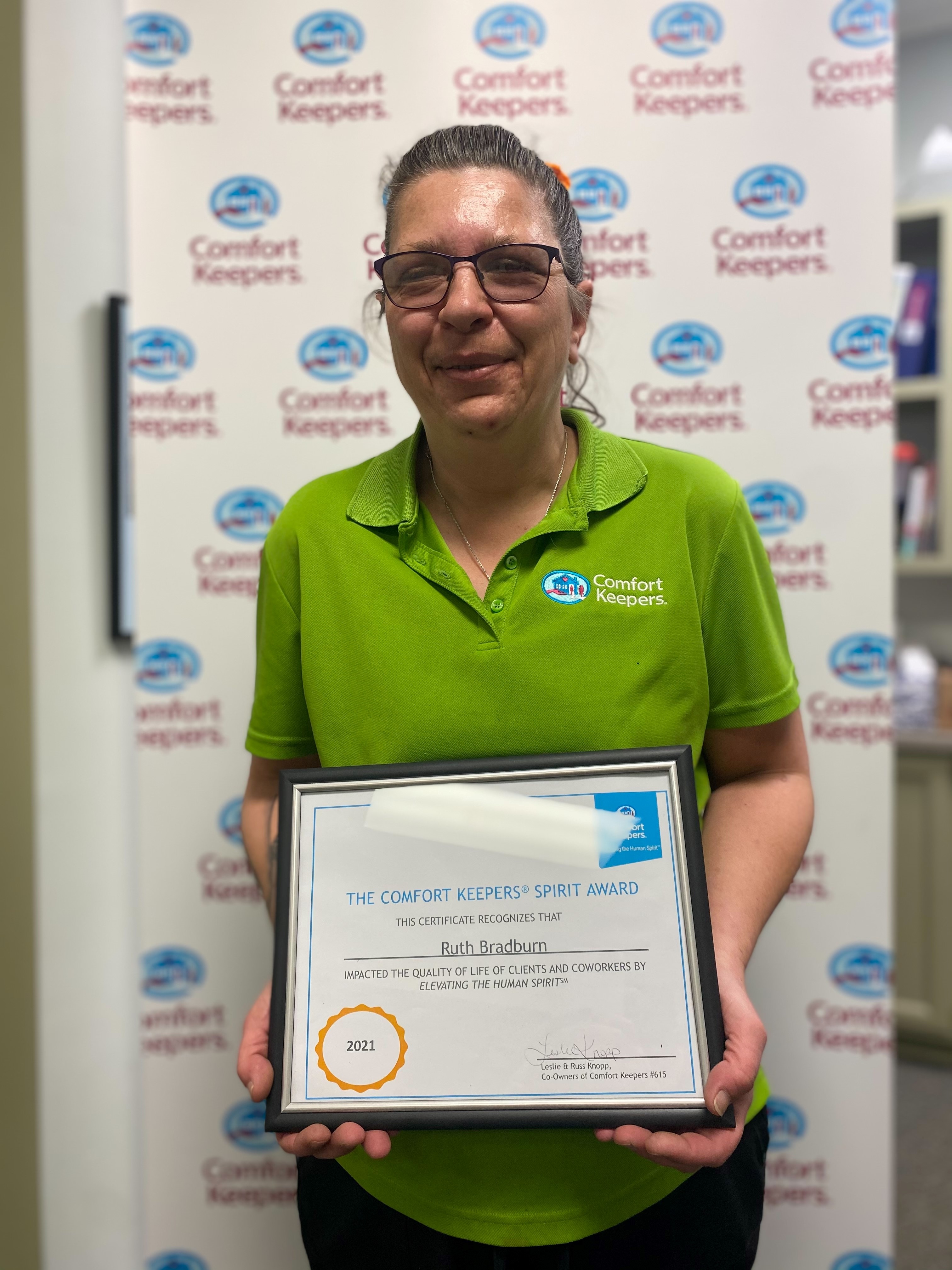 Ruth has been employed at Comfort Keepers since July 2020. She has over 20 years' experience in the field. She was a Certified Nurse Aide in the past with most of her career taking place in the AFC and nursing home setting. She enjoys working In Home Care because of the connections she makes with clients. She helps clients feel comfortable by making conversation and focusing on their needs. In January of 2021 Ruth dedicated herself full time to a husband and wife with COVID she jumped to help them even though she had not met them before. She worked various shifts to make sure they had the coverage and support. The family was so impressed calling Ruth an angel. Ruth's other skills have included giving resistant seniors showers. Ruth's patience, adaptability to any situation and her companionship tactics make her an absolute gold star. She tries to make a difference and brings a sense of calmness when she interacts with her clients. She won a Visa Gift Card inside a "Caregiver" mug, which she enjoyed very much, as she collects mugs!