Comfort Keepers Elderly Care Services Provides Products That Give Seniors in Ann Arbor, MI Peace of Mind
Learn how our new Comfort Keepers Personal Emergency Response System (PERS) Unit is improving our elderly care services in Ann Arbor, MI and the surrounding areas
Ensure your loved one remains safe at home with our new elderly care Personal Emergency Response System Unit, mobile medical alert pendant. The Comfort Keepers PERS Unit features water-proof, mobile help buttons designed to be taken wherever life takes you.
The Comfort Keepers PERS Unit uses a 4G cellular network to connect to an operator during an emergency. After pressing the call button, an operator will respond by sending emergency services or calling a friend or family member from your predetermined contacts list.
About Your Comfort Keepers PERS Unit
Mobile protection and coverage for both inside and outside the home
The battery lasts up to 30 days on a single charge
Works anywhere in the U.S. with available AT&T cellular coverage
Shower-safe
No price increases or long-term contracts to sign
30-day money-back guarantee
Free shipping on all Quarterly and Annual plans
Free lockbox on all Annual plans
Pendant is worn on necklace only
Charging Your Comfort Keepers PERS Unit
Plug charging cradle into an electrical outlet
Place home care product into the charging cradle
Keep the home care product on the charger for three hours to fully charge battery
*Text message and/or email notifications can be set up to inform you or contact when it's time to charge your Belle. To set up the notifications, please contact our office at (734) 234-8277.
*Please charge your Belle immediately upon receiving the device to ensure you have a full battery.


SafetyChoice® Pill Dispenser System
A simple, cost-effective solution to prevent medication mistakes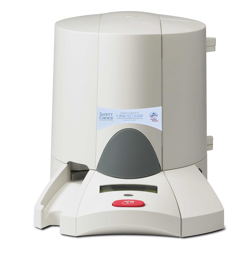 If your senior struggles with taking his or her medications on time and at the correct dose, the SafetyChoice pill dispenser system will help keep him or her on track. It's simple, easy to use, and will help prevent medication errors that could harm your loved one.
This economical unit holds up to 60 medication cups, with each cup holding 20 to 25 pills and supplements. It is capable of handling a variety of dispensing schedules and doses for each day of the week. It organizes, reminds, and tracks the delivery of prescription medications, and the easy-to-see and feel dispensing button makes it virtually effortless for your loved one to use.
Features:
The system plugs easily into an existing phone line.
It provides notification of a missed dose.
A 12-hour battery backup system keeps the system functioning during a power failure.
A locking storage compartment keeps medications secure.
A friendly voice, text message, and flashing light help alert your loved one of the dispensing time.
In-Home Consultation
Comfort Keepers® will assess your safety needs and recommend the right product provided by our elderly care services. Comfort Keepers will visit the home, work with the family to determine the specific needs, and demonstrate how these care products help seniors stay safe while maintaining independence in the home.
To learn more about elderly care and the products we offer in Ann Arbor, MI, contact us online or give us a call at (734) 234-8277.
Seniors living at home alone can face risks.
For instance, the risk of falling can be a threat to a senior's health and quality of life. But no less critical, a dose of medication could be missed, or overdosed. Additionally, for those with dementia, wandering off or engaging in a dangerous activity can put them in harm's way. 
Consequently, many families face this dilemma: balancing respect for a loved one's independence with a desire to provide them with home care. No one wants to be overbearing, but all families worry about the time between visits when their loved one is alone. 
Comfort Keepers offers more than in-home care, we also help seniors and their families overcome these challenges with our full line of in-home safety devices.
Contact Us
Medical Monitoring Systems
Disclaimer: Products may vary by location
Personal Emergency Response System
These two-way devices provide real-time voice interaction with seniors and others in the event of a fall, sudden illness, or a medication misstep. As senior mobility decreases, these devices give them and their families a measure of peace of mind.
Schedule a Free In-Home Consultation
A Comfort Keepers home visit will help determine the specific needs and demonstrate how these care products can help your senior stay safe while maintaining independence in the home.
Schedule a Free In-Home Consultation