Berkeley Lake, GA
With Comfort Keepers® in Berkeley Lake, GA, your loved ones will never have to worry again about where their professional, dependable, in-home care will come from next. With our wide variety of care services – ranging from personal care to help with laundry and cooking – your loved ones will receive a plan of care that accommodates their every need.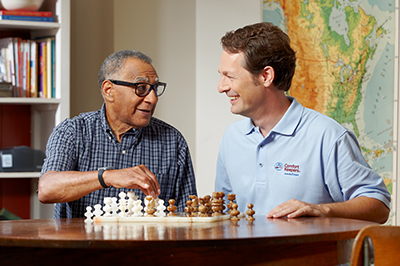 Comfort Keepers understands that senior independence is not something that is confined to just the home. Many seniors way wish to continue engaging in their favorite activities, hobbies, or pastimes in Berkeley Lake. To help make this possible, our expertly trained caregivers – we call Comfort Keepers® – offer transportation services. If your loved ones wish to take an early evening stroll on the walking trails near Ridge and North Berkeley Lake Roads, or they would like to relax by the lake itself on a warm summer's day, we will be there to accompany them every step of the way.
Call Comfort Keepers today at (770) 233-7494 to learn more about our unique style of caregiving and how we can help your loved ones live more comfortably.