Comfort Keepers Senior Care At Home in San Jose, CA Presents the Family Room
Elder Care At Home Experts Comfort Keepers are proud to present a new communication tool that works for our caregivers and your family
Comfort Keepers is proud to present the Family Room, a communication solution for your entire family when one of your loved ones is receiving elder care at home.
We know that while we provide the best in-home care, you or your sibling might not always be there to keep track of it. Further, you and another family member may not be on the same page in terms of what kind of care is desired.
The family Room provides a solution. It's a great new online tool that puts the entire senior care at home team into one virtual room: our caregiver, and decision-makers who need to be informed of your senior loved one's care.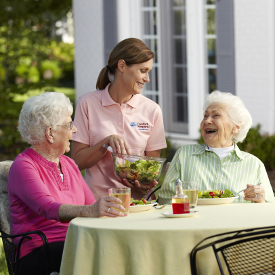 Within the Family Room, everyone can share a wide variety of information on Dad or Mom's elder care at home. Everyone will be equally knowledgeable and will have equal opportunities to participate in your loved one's home healthcare.
What is the Family Room?
Family Room lets the Comfort Keepers caregiver post regular real-time updates of his or her senior care at home activities. A caregiver can fill out a checklist as he or she finishes specific tasks and delivers certain pieces of care, such as help with getting dressed, meal preparation, etc. You can also view your family member's appointments and make changes accordingly.
Family members can make notes in each visit requesting specific information or tasks for the caregiver. Personal in home care from Comfort Keepers is very customized.
We know to care for seniors at home inside and out, and we know how to adjust to an individual's needs. The Family Room allows us to do our job as well as make sure that everyone in the family knows what's going on and feels adequately involved.
Not only are we more interactive than ever, but we now give easy access to people living anywhere. If you are interested in elder care, you need not to live near your parents or other relatives. Finally, there's no extra charge for Family Room…or for transparency! Give us a call to see how our services can help benefit you and your loved one.