Welcome to Comfort Keepers®
In Home Care in South Orange County.
At Comfort Keepers® in Laguna Niguel, CA we specialize in providing quality and loving caregiving right at home. We have over a decade of experience in providing excellent, customized in-home care services to seniors and other adults. We strive to enable each senior in our care to reach their highest possible quality of life and independence. With the help of a friendly caregiver, many seniors are able to continue participating in activities they love with the added confidence that a companion brings.
We provide in home senior care in Laguna Niguel, Laguna Woods, Coto de Caza, and the surrounding communities. If you are looking for in home senior care near you and live in South Orange County - we can help. Our caregivers are employees (not contractors) who are fully vetted, licensed and bonded in keeping with our core values of providing reliable senior care at home by trained caregivers who are dependable, compassionate, accountable and held to the highest standards.


We Offer An Extensive Variety of Home Care Services
Comfort Keepers, provides two types of care in Orange County in-home care and specialized care. We provide assistance to seniors with a wide range of needs, ranging from simple daily living assistance to hands-on care for individuals with specialized needs. Read through our extensive selection of home care services listed below:
24-Hour Care: When an elderly family member needs constant in home care because of a prolonged illness, accident or other medical complication. In order to provide the best care and monitor your loved one's health at all times, our caregivers are available to work in shifts.
Alzheimer's and Dementia Care: As a result of our memory care services, people with dementia can remain in their own homes, where they are most at ease. In order to keep you or a loved one safe and healthy at home for as long as possible, our caregivers are trained in the best practices of memory care Specialized Dementia and Memory Care.
End-of-Life Care: We also help terminally ill persons and their families. We can assist your loved one and family members with physical, emotional and spiritual support during this difficult and challenging time.
In-Facility Care: Even while our organization is known for providing care in the comfort of the client's own home, we also provide services to those in nursing homes and assisted living facilities.
Post-Hospital Care: Our transitional elder care program can assist older or disabled persons who are preparing to leave the hospital. -- also called continuity care, when you or your loved one leaves rehab, a hospital or other facility and needs a little extra assistance at home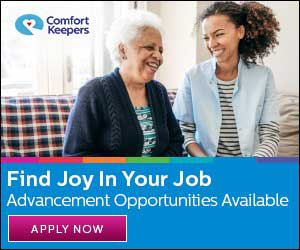 What's New at South Orange County Comfort Keepers
Visionary Caregiver Awards - Alzheimer's Orange County
Comfort Keepers of South Orange County is proud to announce our amazing Client Care Manager, Sara Booth, was chosen as an honoree for the 2022 Virtual Visionary Women Caregiver Awards! She has changed so many lives and has supported countless numbers of families throughout our community. Sara undoubtedly deserves recognition for the life-changing work she does on a daily basis, and it is an honor to have her on our team. Thanks for all you do, Sara.
Comfort Keeper of the Month goes to Maritess!
We are happy to share that our Comfort Keeper of the Month is Maritess Tuzon! Maritess is an absolute angel 😇 and is consistently praised by our seniors for her dedication and always sunny disposition. Thanks for all you do Maritess and congrats!
Ready to Get Started?
At Comfort Keepers, we understand that finding the perfect senior care solution for an aging loved one can be difficult. There are a wide variety of care options available with many unanswered financial questions. If your family chooses Comfort Keepers, your loved one will receive award-winning home care services! Your loved one and family will be able to use long term care insurance to cover the costs of our care. Comfort Keepers in South Orange County accepts all long term care providers. Also, referred to as "private pay" - long term care coverage can vary by provider, please contact us today! We would be happy to discuss our senior care options and how they can be covered.
Comfort Keepers® leads the senior home care industry in innovative personal care plans that offer each senior and other adults the precise level of care they need to maintain their independent lifestyle right at home. Some seniors require just a few hours each week of assistance with daily living while others may require full-time care and help with meal preparation, companionship, personal care and light housekeeping. Whatever your loved one needs, we will care for them as if they are our own family.
Specialized 24-hour dementia care services are available for those seniors suffering from degenerative diseases, such as Alzheimer's disease and dementia. Our caregivers will continuously assess the needs and abilities of these patients and see that the care plans are adjusted as needed. Communication with the family is frequent in order to provide your loved one with the best possible health care, and the family with much needed support.
Contact Comfort Keepers® in Laguna Niguel, CA today for a free consultation and customized care plans for yourself or your loved one.
We believe that home remains the safest place for you or your loved one, as indications show that the virus is spread more quickly in large group or public settings. Possible exposure will remain the lowest for those who are able to stay in their homes with limited outside contact. For this reason, we feel fortunate to be able to provide care that can keep people at home and limit exposure in group settings through personalized care and support.