Comfort Keepers Elder Care Services in Green Bay,WI Presents the Family Room
Elder Care Services of Green Bay, WI: Comfort Keepers is proud to present a new interactive online portal that works for caregivers and families! 
Comfort Keepers is a leading elder care services agency with offices throughout the United States.  We craft personalized healthcare to serve the needs of your loved one. In addition, we also give attention to the needs and convenience and peace of mind of everyone in the family. 
We understand that if you live some distance from your loved one, or if you and your siblings are both involved in their care, confusion can arise.  To address these concerns Comfort Keepers is now using a great new web tool called the Family Room.  It's a fully-interactive web site for you, your elder care services agency and all other parties involved.
Family Room puts the whole home care team in one virtual room to manage your loved one's care.  This not only eliminates confusion and second guessing, but also helps you participate in and steer your loved one's care.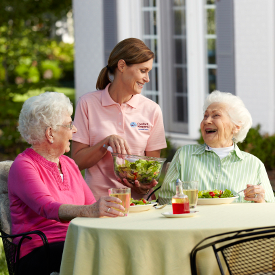 What Is The Family Room?
With Family Room, you get regular, real-time updates regarding the services provided by Wisconsin's premier home care agency.  In short, the caregiver fills out a checklist of tasks completed and you have the ability to view your family member's appointments and activities in a shared calendar. You can add and change these, and can view comments from the care provider.  
With all members of the care team sharing information, there won't be any misunderstandings or conflicting information. You and your siblings or other relatives can all have input regarding care and easily come to a mutual understanding of what's best for your loved one.
We like Family Room because it shows off our providers' skills—by seeing what they do in real time, you'll become even more comfortable with the care your loved one is receiving.  Our home health agency hopes the portal will facilitate a great working relationship with the home care provider. 
Our mission is to provide—and maintain—comfort. Our personal care assistants create peace of mind, both for the care recipient and for family members.
That peace of mind comes from highly-customized care.  That's why we begin the process with an in-home consultation.  Now, we take it to the next level by letting you participate in interactive care.  Please contact our home health agency to see how we can provide care for your loved one.