Welcome to Comfort Keepers Home Care of Fredericksburg, VA, and the surrounding areas
Comfort Keepers home care provides elders throughout Fredericksburg, Locust Grove, VA, and the surrounding areas.
Welcome to Comfort Keepers, a trusted provider of comprehensive home care services in Fredericksburg, VA, and the surrounding areas. We understand the desire to maintain independence and age gracefully in the comfort of your home, and our compassionate caregivers are here to support you in achieving that goal.
At Comfort Keepers, we offer a wide range of personalized home care services tailored to your needs. Our highly trained caregivers assist with daily activities, medication management, meal preparation, transportation, light housekeeping, and companionship. We believe in fostering meaningful connections with our clients, ensuring you feel valued, respected, and supported throughout your caregiving journey. To learn more, call us at (540) 205-8743 or click one of the buttons below.
---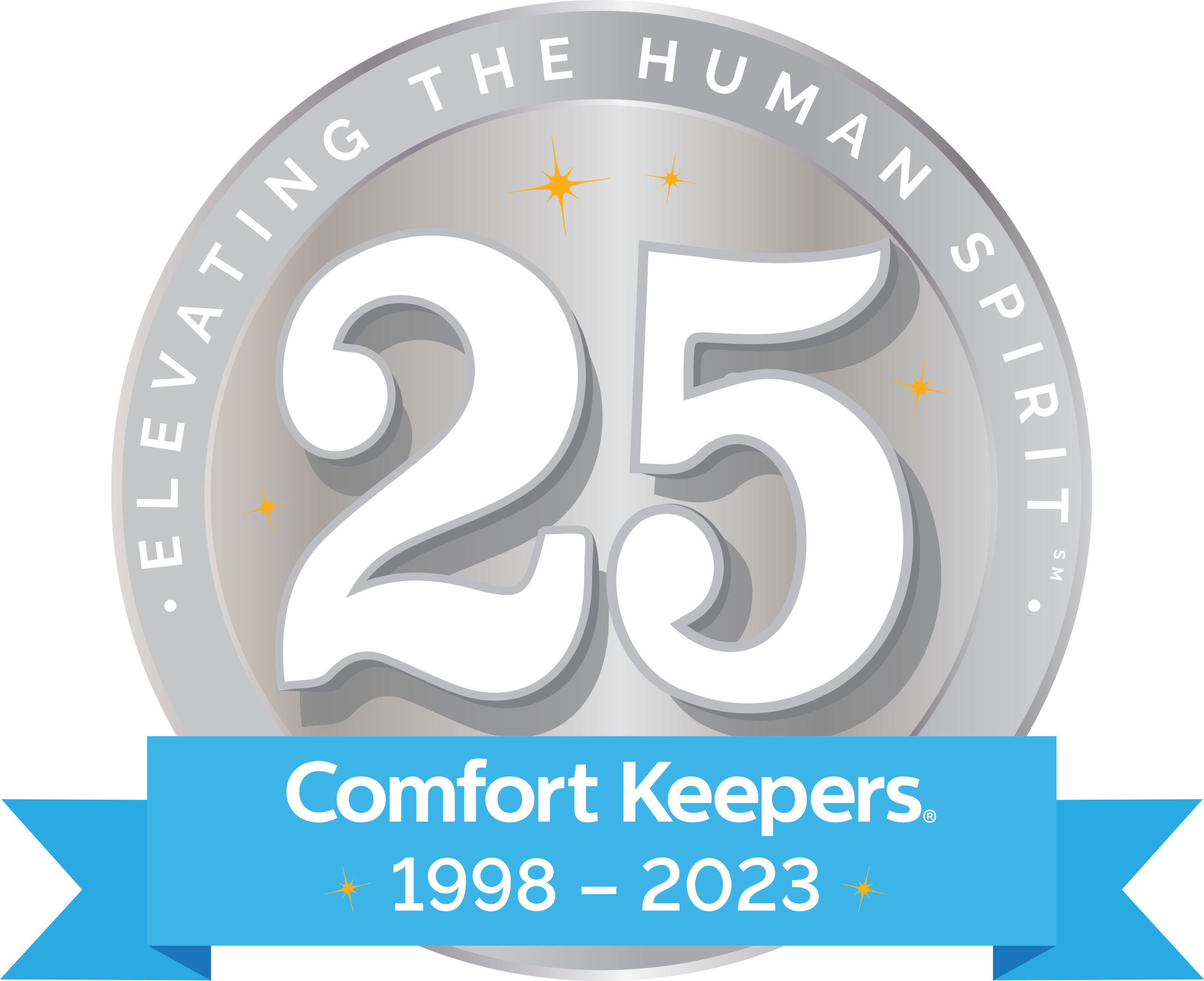 Celebrating 25 years of Elevating the Human Spirit℠
Since 1998, Comfort Keepers® has changed the lives of thousands of seniors and their families by providing uplifting in-home care that Elevates the Human Spirit℠. Our brand promise to help seniors thrive and achieve greater well-being by fostering everyday positive moments, connection, and a more purposeful life, still rings true 25 years later.
---
Are you interested in becoming a Comfort Keepers Caregiver?
Every Comfort Keepers Home Care business has a core group of people who work as caregivers and help older people by giving them the unique Comfort Keepers brand of senior care that they know and love. Those who want to work in and manage offices, coordinate customer care, or market Comfort Keepers Services can do so, too! If you start as a caregiver but later want to work in the office, Comfort Keepers wants to help you grow as a person and help you move up the ranks.
See why so many have chosen Comfort Keepers as their career:
Flexible Scheduling
Competitive Pay
Rewarding Career Helping Others
Career Advancement Opportunities
Kick-start your career in HealthCare
Health Education and Care Training
---
Comfort Keepers Has Many Services Available For Your Loved One
Our Fredericksburg, VA, team provides exceptional home care services that prioritize your well-being and promote independence. We understand that everyone has different care requirements and preferences, so we take the time to listen and understand your needs. Our caregivers are carefully matched to each client to ensure compatibility and trust, creating a supportive and nurturing environment.
Alzheimer's or Dementia is one of the most challenging struggles people face during aging. At Comfort Keepers, we have specific caregivers trained to work in this area of expertise and understand how this can affect your loved one. Our interactive memory care plans allow seniors to stay in their homes and continue living the comfortable lives they previously were. Visit our Alzheimer's and Dementia Care Page to learn more about this.
Comfort Keepers Is Always Around For Your Senior
At Comfort Keepers, we go beyond just meeting your physical needs. We believe in engaging you mentally, emotionally, and socially. Our Interactive Caregiving approach involves stimulating activities, meaningful conversations, and companionship to enhance your overall well-being and quality of life.
We understand the significance of communication and family involvement. Our team maintains open lines of communication and provides regular updates to you and your family, ensuring that everyone is involved and informed throughout the caregiving journey. We are available 24/7 to address any concerns or emergencies, providing our clients and their loved ones peace of mind.
---
Create a Care Consultation Appointment in Fredericksburg, VA, Today!
Call one of our knowledgeable caregivers to set up a free, no-obligation consultation to learn more about Comfort Keepers Home Care of Fredericksburg, VA, and our home health care services. The needs, conditions, interests, and preferences of your loved ones will be thoroughly discussed during this session with a trained caregiver. This will allow us to create a senior care plan tailored to their needs, personality, and way of life. Contact our personal care team by calling us at (540) 205-8743 or selecting one of the choices below to get started.